In these articles, we are reviewing major providers in the data center industry, and how they've strategically placed themselves in top US markets. This time, we'll examine CoreSite, and the steps behind its successful path in the Silicon Valley market.
Headquartered in Denver, CoreSite currently has 3.2 million sq ft of data center space in eight US markets, including New York, Boston, Denver, Chicago, Miami, DC-Northern Virginia, Silicon Valley, and Los Angeles. It has recently received significant attention for the development of its campus in Santa Clara.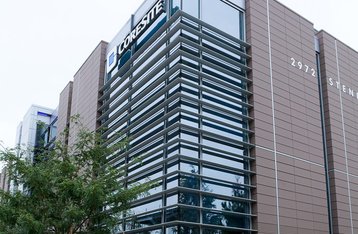 Follow the customers
The main advantage of the Silicon Valley market for data center providers is, of course, an overabundance of customers. With so many high-tech giants and startups headquartered in the area, the demand for both retail and wholesale space continuously outweighs supply. Data centers in the Silicon Valley market are often pre-leased well before they are completed.
In particular, Santa Clara has become the valley's principal data center hub, with more than 30 data centers crowded into a 3.5 sq. mi. area. The municipal utility, Silicon Valley Power, offers slightly lower rates in Santa Clara than its competitor, PG&E, and this has attracted numerous data center developers.
The past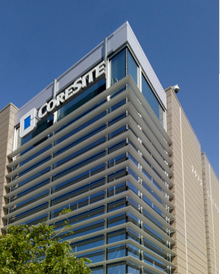 CoreSite was founded in 2001 as CRG West, a subsidiary of the Carlyle Group. The company's founding assets were two of the West Coast's first carrier hotels, One Wilshire in Los Angeles, and the Market Post Tower (now called Tower 55, but referred to by CoreSite as SV1) in San Jose.
CoreSite's IP exchange, Any2Exchange for Internet peering, is the largest on the West Coast and is operated from these two buildings. One Wilshire interconnects to over 240 networks, while Market Post interconnects to over 50 networks, including AMS-IX Bay Area, and serves as a gateway for sub-sea cables to the Asia-Pacific market. Although One Wilshire is now owned by GI Partners, CoreSite still offers data center services in the tower and continues to be its largest tenant.
In 2007, CRG West purchased a tract of land in Santa Clara, with the intent of developing a 50MW data center campus there. Located at the intersection of Coronado Drive and Stender Way, the complex is referred to as the "Coronado campus." Not long after the purchase, the company rebranded itself as CoreSite.
The 2008 groundbreaking at CoreSite's Santa Clara campus was timely, as the tech world was about to be rocked by two major innovations. The social media phenomenon, led by Facebook, was beginning to take hold. Also, Amazon.com was offering Amazon Web Services, essentially creating the cloud market by allowing companies to store and process data on Amazon's unused server space. The social media and cloud markets would create tremendous demand for data center space and services in Silicon Valley.
Unfortunately, CoreSite's Santa Clara launch was untimely in another way, as it occurred right before the financial meltdown of 2008. During this time, several providers postponed data center projects in Silicon Valley, due to financial problems.
Although completion of its initial project was delayed slightly, CoreSite went ahead with construction, and opened its first Coronado Campus data center, SV3, in 2010. Not long after, Facebook signed a lease for the entire facility. CoreSite immediately began constructing a second facility of greater size and power at Santa Clara.
In 2011, the City of Santa Clara approved an application for entitlements, allowing CoreSite to increase the density of its Coronado campus from 229,600 to 496,250 sq ft. CoreSite immediately began plans to construct three additional buildings and an electrical substation on the campus.
The present
CoreSite currently has seven data centers in Silicon Valley, totaling 778,000 sq ft of space in three cities. Of this, over 615,000 sq ft of space is located at the Coronado campus in Santa Clara. (NOTE: CoreSite refers to its SV3-SV7 facilities, collectively, as its "Santa Clara campus.")
The two facilities CoreSite owns outside Santa Clara are:
SV1 (San Jose)
In addition to serving as CoreSite's carrier hub for Silicon Valley, the former Market Post Tower features approximately 86,000 sq ft of data center space.
SV2 (Milpitas)
Located in a small town adjacent to San Jose and Santa Clara, this facility features 76,000 sq ft of data center space.
The buildings located on the main Santa Clara campus are:
SV3
A 50,000 sq ft facility completed in 2010.
SV4
Another 101,000 sq ft facility, completed 2011.
SV5
A 101,250 sq ft build-to-suit project, pre-leased by a single large customer. Completed 2015.
SV6
A 136,580 sq ft, build-to-suit powered shell development, built exclusively for a large single tenant cloud provider. Completed 2016.
SV7
A four-story facility, featuring 230,000 sq ft of data center space. It is currently more than 75 percent leased. Completed late 2016.
All data centers on CoreSite's Santa Clara campus are built to LEED Gold certification standards, and feature air-side economization which increases energy efficiency through the use of "free cooling."
Additionally, all of CoreSite's Silicon Valley data centers offer access to Any2Exchange for Internet peering and AMS-IX Bay Area, as well as access to the CoreSite Open Cloud Exchange and native access to AWS Direct Connect. Additionally, users can access other major cloud on-ramps– such as Microsoft Azure ExpressRoute, SoftLayer Direct Link and Google Cloud Platform– through network providers within the facility.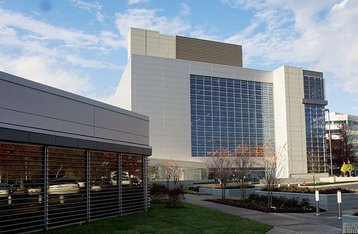 The future
A disadvantage of the crowded Silicon Valley data center market is a lack of available power and space for development. In May, 2017, CoreSite acquired a 2-acre property, adjacent to its Santa Clara campus. This property is small, when you consider that CoreSite and other developers are acquiring land parcels as large as 60 acres in other major data center markets, like Dallas and Ashburn, Virginia.
CoreSite's solution to limited space is to build up instead of out. Its newest Santa Clara data center, SV7, is a four-story facility. Once the company takes ownership of the 2-acre tract, CoreSite plans to demolish an existing building and build a 160,000 sq ft, multi-story facility with 18MW of power. This is becoming a trend in Silicon Valley, where developers will buy up "infill locations" – parcels of land in close proximity to existing sites – and knock down existing buildings to replace them with data centers.
A lack of space is one reason for slower growth in Silicon Valley, compared to other prominent data center markets, such as Dallas, Chicago, and Northern Virginia. However, CoreSite's efforts in Santa Clara show that, where there is strong demand, developers can adapt to the market's logistics and produce data center products that will meet the market's needs.
David Liggitt is president at information service datacenterHawk