Cryptomining firm White Rock Management has become the latest firm to utilize flared gas for its mining operations.
The Switzerland-based company this week announced the deployment of its first US bitcoin mining operation in Texas' Brazos Valley region that will be powered through 'by-product natural gas' from oil wells located at the site. The initial deployment will reportedly be around 3MW.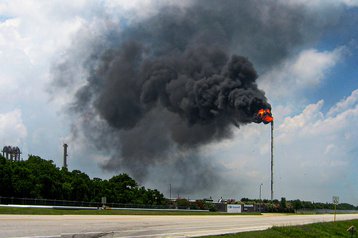 White Rock is partnering with NGON, a blockchain-focused energy services and technology company, to capture the gas through mitigation services and divert the energy to produce Bitcoin.
"The Brazos Valley mine is the first of several grid independent facilities we are planning in Texas that will utilize by-product natural gas from active oil wells, turning waste into a reliable, non-grid energy source," said Andy Long, CEO of White Rock Management. "The launch of our first US mining operation strengthens our position as an emerging player in the global digital asset mining industry."
Oil wells routinely waste natural gas, burning it off in "flares." These burn methane and release CO2, but they do it inefficiently, releasing a significant amount of methane, which is a greenhouse gas that is more potent than CO2 - albeit with a much shorter lifetime in the atmosphere.
Like many other firms using flared gas to power computing hardware, White Rock says burning the gas for mining operations is more environmentally friendly, preventing more methane being released into the atmosphere. White Rock says its operations will prevent an estimated four million cubic feet (5,000 MCF) of methane per megawatt.
Other companies using similar technologies include Crusoe Energy, Earth Wind & Power (EWP), Bit River, EZ Blockchain, Giga Energy, and Validus Power.
White Rock currently operates operate two leased data centers in Sweden with a maximum power capacity of 22MW. The company previously opened a 100MW data center in Kazakhstan, but doesn't refer to it in more recent press releases or on its operations web page.
"We are in expansion mode, actively exploring additional locations throughout the United States and elsewhere in North America, Europe, and Latin America with favorable business and political environments," said Serhiy Tron, founder of White Rock Management. "We are also seeking potential M&A opportunities within the Bitcoin mining industry, as the current market environment is conducive to both M&A and strategic partnerships."
Elsewhere in the US this week, officials in Black Hawk County, Iowa, denied a request to allow a company to set up Bitcoin mining operations.
The Board of Supervisors unanimously voted against an ordinance to rezone a one-acre property from an agricultural land use to a commercial manufacturing district. MiningStore had hoped to construct a data center at 8226 W. Griffith Road in Hudson, after constructing a similar 6MW facility in nearby Grundy County.
During the meeting, Black Hawk locals were concerned about the impact the facility would have on the local area, saying the operation would be better suited in land already zoned for industrial use.
"I'm concerned that you're opening up Pandora's Box by doing this," said local resident Barbara Glasener, whose family owns a farm near the proposed site. "More precedents could be set that we might not be able to stop."
More in Construction & Site Selection