V.tal, a Brazilian fiber firm part of telco GlobeNet, has launched a new Edge data center in Fortaleza.
Known as 'Big Lobster', the facility will launch with 4MW capacity across four data halls able to accommodate a total of 400 racks. The new data center is linked to the company's neighboring Fortaleza cable landing station (CLS). Combined, the two facilities offer 7,000 sqm (75,350 sq ft) with a capacity for 600 racks and more than 5MW. The CLS has been in operation since 2002.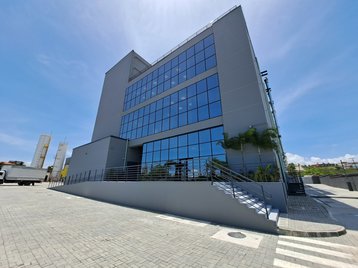 First announced in September 2021, the Fortaleza site was originally due to launch in Q3 of 2022. The company has reportedly invested $59 million into the project.
"With the kick-off of the new edge data center complex, V.tal consolidates itself as an ecosystem of neutral infrastructure solutions that provides its customers with robustness, resilience, redundancy, capillarity, and very low latency," said Cícero Olivieri, vice president of engineering at V.tal.
BNAmericas reports the site is already 50 percent leased, with a further 25 percent under negotiation, according to V.Tal wholesale VP Bento Louro.
V.tal now has four Edge data centers in operation; two in Fortaleza, one in Rio de Janeiro, and another one in Barranquilla, Colombia totaling 10MW.
"V.tal will invest to expand its data center park, as it complements its capillarity and footprint in all Brazilian regions, in addition to meeting the present and future requirements of its customers, due to innovations and new technologies that have been emerging," said Eduardo Silveira, vice president of strategy at V.tal.
Last year BTG acquired a 57.9 percent equity interest held by Oi SA in the company's fiber-optic infrastructure assets unit, now known as V.tal, and planned to merge the company with GlobeNet. In November V.tal closed funding of 2.5bn reais ($470m) through a capital increase underwritten by BTG with funds from the Canada Pension Plan Investment Board (CPPIB).
Owned by BTG Pactual Infrastructure Fund II, GlobeNet is a wholesale telecom operator that owns a number of submarine cables in Latin America as well as Cable Landing Stations in Brazil, Colombia, and the US in New Jersey and Florida.
The company is also planning a new facility in Porto Alegre, Rio Grande do Sul, though details haven't been released beyond the fact it will be a retrofit of an existing building. A second site in Barranquilla is also in development.
A version of this story appeared on our Spanish edition.