V.tal, a Brazilian fiber firm part of telco GlobeNet, is planning a new data center in Porto Alegre.
First reported by BNAmericas, the company has acquired a building it plans to retrofit in the state of Rio Grande do Sul.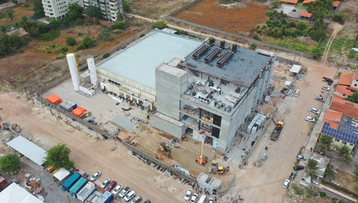 "V.tal maintains an expansion plan in several regions of Brazil to meet the localized realities of operators, providers, and OTTs and the growing demand for real-time experiences," V.tal said on LinkedIn this week. "We have already acquired a property to accommodate a 4MW Edge data center in the city of Porto Alegre."
Details about financial terms, location, building size, or timelines weren't shared.
Owned by BTG Pactual Infrastructure Fund II, GlobeNet is a wholesale telecom operator that owns a number of submarine cables in Latin America as well as Cable Landing Stations in Brazil, Colombia, and the US in New Jersey and Florida.
Earlier this year BTG acquired a 57.9 percent equity interest held by Oi SA in the company's fiber-optic infrastructure assets unit, now known as V.tal, and planned to merge the company with GlobeNet.
The companies currently have three Edge sites currently in operation; two in Brazil in Fortaleza and Rio de Janeiro, and one in Barranquilla in Colombia.
V.tal told BNAmericas it is 90 percent complete with the engineering works of its second site in Fortaleza, first announced in September 2021.
Originally due to launch in Q3 of 2022, the inauguration for the new facility is scheduled to take place in January 2023; it will have a capacity of 4MW and support for 400 racks. Reportedly dubbed 'Big Lobster', the site will span more than 7,000 sqm (75,350 sq ft) of floorspace.
A second facility in Barranquilla is also in development. That site was also due to go live in 2022, but the company hasn't given a new target date.
Last month V.tal closed funding of 2.5bn reais ($470m) through a capital increase underwritten by BTG with funds from the Canada Pension Plan Investment Board (CPPIB).