Virtualization specialist VMware has expanded functionality of its Virtual SAN software, adding two popular data reduction methods - compression and deduplication.
According to VMware, the new features will help dramatically lower the cost of storage infrastructure, especially if it features flash memory.
vSAN 6.2 also introduces improved health monitoring and Quality of Service targets to help solve the 'noisy neighbor' problem.
At the same time, VMware has rolled out a number of updates to its vRealize cloud management suite, featuring new releases of 'Operations', 'Log Insight', 'Automation' and 'Business for Cloud' components, and made changes to its licensing structure.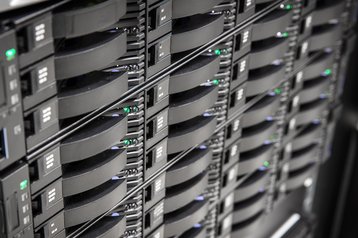 Getting with the program
vSAN was originally launched in 2014 as VMware's first foray into software-defined storage. It has since been deployed by more than 3,000 organizations, and a total of 11 server OEMs – including Fujitsu, Hitachi Data Systems and Supermicro - now offer preconfigured vSAN 'Ready Nodes'.
The latest version of the software, vSAN 6.2, expands the software functionality to include deduplication and compression - tried and tested by all-flash array vendors, but seldom offered separately from hardware.
The first technique reduces bits by identifying repeating chunks of data on the drives, and replacing every duplicate with a tiny reference point to a single chunk. The second reduces bits by identifying and eliminating statistical redundancy in data.
VMware says these techniques can lower the cost of a Gigabyte of 'usable' flash to around $1 – same as the price commonly charged for disk storage.
vSAN 6.2 has also improved storage reliability with the addition of Erasure Coding - a method of data protection in which data is broken into fragments, expanded, encoded with a configurable number of redundant data pieces and stored across a number of locations.
Erasure Coding is considered to offer superior data protection when compared against RAID, the traditional method of splitting information among multiple storage drives.
"These are the things customers have been asking for," Rory Choudhury, director of marketing for SDDC at VMware, told DatacenterDynamics.
"The storage R&D team are very good at engaging with customers and prospects, asking them what works, where are the issues, how can we make it better. And that then directly feeds into our R&D plans."
Meanwhile vRealize 7 updates a number of components used to manage virtualized environments. For example, the latest version of vRealize Operations introduces new intelligent workload placement capabilities, while vRealize Log Insight 3.3 adds Simple Query API for easy integration into existing processes.
All of these software products are available under the new Portable Licensing Unit (PLU) pricing strategy, which charges the same amount for either one virtualized CPU deployed on-premise or 15 VMs in the cloud, without the need for license conversion.
The offer is fairly generous – according to Choudhury, a typical user runs somewhere between 8 and 14 VMs in the public cloud for every CPU they have on-premise.