On December 29, Vietnamese telecommunications provider FPT held a groundbreaking ceremony for its 14th campus, the FPT Tower in Cau Giay District, Hanoi.
The campus as a whole will span 100,000 square meters (1,076,391 sq ft), with working space for 9,000 people. The site will consist of a 21-story building, a 17-story building and an eight-story data center.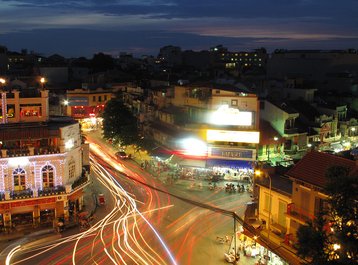 Towers
"The number of FPT employees has grown nearly 16 percent a year in the last 10 years. The growth rate is expected to be 18 percent in the 2018 – 2020 period, and reach a scale of more than 50,000 by 2020," FPT CEO Bui Quang Ngọc said.
"We expect FPT Tower will contribute to the development of Vietnam's technology ecosystem, especially in the time of the fourth industrial revolution."
The groundbreaking event was attended by Deputy Minister of Science and Technology Tran Van Tung; Deputy Minister of Information and Communications Phan Tam; and Representatives of the Hanoi People's Committee and the People's Committee of Cau Giay District.
In its recent earnings report, FPT said that it brought in VNĐ39.319 trillion (US$1,726,104,100) in revenue in the first 11 months of 2017, up 10 percent over the year before. Profit before tax reached VNĐ2.990 trillion (US$131,261,000), up 14 percent over 2016.
Profits from markets outside of Vietnam accounted for one third of the group's profits, up 20 percent year-on-year. The company employs 32,000 employees across 21 countries.