Vertiv has launched a new chilled water wall, designed to work with newer slab floor data centers.
The CWA, launched in EMEA this week, is designed to improve the performance of chilled water cooling in data centers following the modern trend, built without raised floors. The CWA chilled-water thermal wall cooling unit was designed in the US and is available in 250kW, 350kW, and 500kW capacities.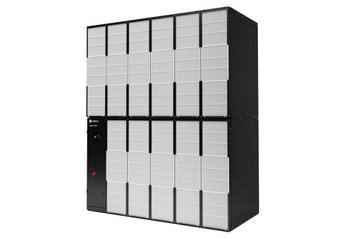 It's now available across Europe, the Middle East, and Africa (EMEA), as well as the Americas.
"For decades, hyperscale and colocation providers have used raised floor environments to cool their IT equipment," says the release. "Simplifying data center design with slab floors enables the construction of new white space more efficiently and cost-effectively, but also introduces new cooling challenges."
In raised-floor facilities, cold air flows under the floor and enters the racks from beneath. Without a raised floor, large data centers, such as those used by hyperscalers, are designed with a low-velocity flow of air across the building. Vendors offering this technology include Stulz, which launched CyberWall cooling in 2020, and Aligned, which has used the technology for some time.
The Liebert CWA is built into the data center outside the IT racks, and designed to take up as little space as possible in the data center, allowing higher density and more racks. It comes with integrated airflow controls It can be integrated with the data center's chilled water system to improve the operating conditions of the entire cooling network.
The CWA is a standardized product, with lower installation costs than custom-made cooling walls. Vertiv promises it will meet the requirements for reliability set by the certification authorities for data center design and operation.
"As the Liebert CWA can be quickly integrated with existing cooling systems, customers can leverage all the benefits of a slab floor layout, such as lower installation and maintenance costs, and a greater availability of white space," said Roberto Felisi, senior global director, thermal core offering & EMEA business leader at Vertiv.