Pakistani telco Jazz has opened a new data center in Islamabad, Pakistan.
The Veon-owned company this week held an inauguration ceremony for the $8 million Jazz Digital Park (JDP), and was officially opened by Veon Group CEO, Kaan Terzioğlu.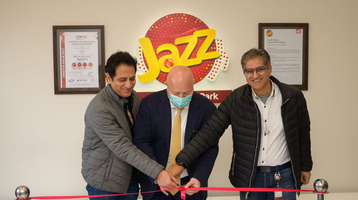 The JDP has a current capacity of more than 300 racks – expandable up to 450 racks – and 3MW of power available. The company said it is the largest Telecommunications Industry Association (TIA) Tier III certified data center in the country.
Jazz will use this digital park to offer secure IT infrastructure and hardware hosting facilities to businesses as well as local startups; it will also be hosting the new cloud platform about to be launched by Jazz.
Aamir Ibrahim, Jazz CEO, said: "The Jazz Digital Park represents a historic milestone for the country's ICT industry as it is expected to simplify digital infrastructure challenges local businesses face. This facility is at the heart of our business strategy and validates our commitment to our customers as they continue their digital transformation journey."
Jazz was formed after the 2017 merger of Mobilink and Wari; the company is 100 percent owned by Veon (formerly VimpelCom Ltd.).
"Through our leadership position in Pakistan and our global expertise, we are focused on helping create a flourishing digital ecosystem in Pakistan. Jazz Digital Park will serve as a key enabler of our digital operator strategy and is in line with our mission to simplify digital infrastructure challenges for local and regional enterprises," said Terzioğlu.
Veon – which owned telcos including Russia's VimpelCom/Beeline, Ukraine's Kyivstar, and Shri Lanka's SLTMobitel – recently concluded a RUB 90 billion ($1.2 billion) round of bank financing, establishing two bilateral loan facilities of RUB 45bn each with Sberbank and Alfa Bank.