Infrastructure expert VCE has introduced the VxRack System - designed to serve as the foundation for hyper-converged data centers.
The 2U units include software-defined storage platform from EMC, networking components from Cisco and come with a choice of hypervisors. They are able to scale from just a couple to thousands of servers.
VCE assembles and tests VxRacks in its own factories, and offers a single point of contact for all support queries.
During the launch event at EMC World in Las Vegas, VCE chief executive Praveen Akkiraju explained that VxRacks are not intended to replace its original VBlocks – the two products are aimed at different use cases, and will continue developing side-by-side.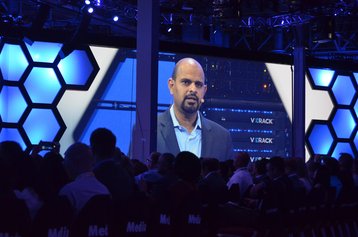 A new class of system
VCE was founded as a joint venture between EMC and Cisco, but in late 2014 the latter pulled out, keeping just 10 percent of the company.
VCE technology was primarily available in VBlocks and more recently VxBlocks– pre-assembled cabinets that include hardware from EMC and Cisco, and VMware virtualization technology.
The new rack units are similar in many respects, but offer much more flexibility. They are built around Intel's Haswell processors and come in compute-intensive or storage-intensive varieties, so customers can scale their compute or storage independently.
VxRacks currently support VMware vSphere and open source KVM hypervisors. They can scale up to 1,000 nodes across multiple geographic locations - all managed and orchestrated through a single VCE Vision interface - and theoretically deliver up to 38 petabytes of storage and 240,000,000 IOPS.
Akkiraju said that while VBlocks and VxBlocks were designed to run mission-critical Tier I workloads, VxRacks are more suitable for Tier II workloads and cloud-based applications. EMC's VSPEX blue also fits into this model, so customers now have a choice of 'blocks', racks or appliances for their hyper-converged data centers.
"We are going to continue to invest and innovate on the VBlocks because it's our flagship platform," he promised.
"We have generated a body of expertise over the past five years, deploying engineered systems at data center scale for our customers. We've got to bring that expertise to the hyper –converged space – that's really what the VxRack is all about."
VxRack systems will be orderable in July and will begin shipping in the third quarter of the year. By August, VCE plans to launch a second version, fully optimized for VMware's EVO:RAIL architecture.