Vapor IO, American provider of hybrid and edge cloud platforms, has released a version of its Vapor Chamber infrastructure product designed specifically for telecommunications providers.
Vapor Chamber Edge for Telecoms is a purpose-built micro-data center which can be installed directly at the base of cell-enabled radio towers.
Vapor IO's Chamber, launched in 2015, is a cylindrical rack enclosure capable of housing up to 150kW of equipment per six 42RU racks. The telco version was redesigned to endure harsh base-station conditions, as well as to provide RF and seismic shielding.
Edging telcos into the future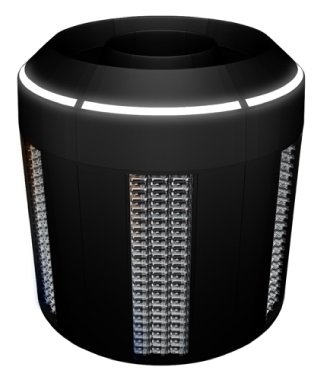 The platform has been rolled out in anticipation of the exponential rise of data generated by mobile devices, VR and the IoT in edge areas. It will enable carriers to colocate equipment with cloud providers, allowing both to expand their edge capabilities.
Vapor Chamber Edge for Telecoms supports existing 2G, 3G and 4G networks and is equipped to support upcoming 5G technologies - the first commercial deployment of which are expected in the early 2020s.
The micro-facility is fully compliant with industry standard for Multi-Access Edge Computing (MEC) – the implementation of Edge Computing in wireless networks which could become widespread with the introduction of 5G.
Carriers can also operate their cloud Radio Access Network (RAN) from the base station itself.
Purpose-developed infrastructure management software 
Along with physical infrastructure, Vapor provides management services that necessitate little on-site support and emnable telecoms to incorporate their Network Function Virtualization (NFV) servers.
This means carriers can use Vapor IO's analytics software, OpenDCRE, for lights-out and remote operations. The company's Core and Compass software is also to be made available to telco operators in order to monitor equipment and environment and to control workloads.
Vapor Chamber Edge for Telecoms is available for order immediately.
We have covered the difficulties of adopting server racks for telco use in the latest edition of DCD Magazine, which you can read here.