Vantage Data Centers has formed a new investment partnership, bringing new investors on board alongside DigitalBridge.
The company this week announced that it has entered into a definitive agreement to form an Investment Partnership with a consortium of investors led by funds affiliated with the investment management platform of DigitalBridge Group, Inc., MEAG, and Infranity.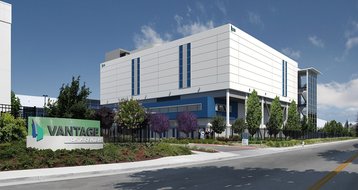 The transaction values the Investment Partnership, which is related to certain stabilized European assets, at approximately €2.5 billion ($2.7 billion) including Vantage's stake. The company didn't disclose the structure of the partnership.
Vantage said the additional capital raised will be used to support the continued growth of the company's EMEA data center platform.
The deal is expected to be finalized in the second quarter of 2023 and is subject to certain closing conditions and regulatory approvals.
MEAG is the asset manager of the German insurance company Munich Re Group and has more than €300 billion ($328.3bn) in assets under its management.
Infranity is a European asset management company specializing in sustainable infrastructure investments and is part of the Generali Investments ecosystem. The company manages close to €8 billion in assets under its management in Europe and internationally on behalf of institutional investors.
Vantage operates more than 20 data center locations across the US, Canada, Europe, Asia, South Africa, and Australia, with more in development.
DigitalBridge is already a major investor in Vantage, but is looking to reduce its stake in the company. During its most recent quarterly earnings call, CEO Marc Ganzi said DigitalBridge was aiming to raise more funds while also seeing more of its 'operating segment de-consolidated' akin to how the company recently recapitalized DataBank with new investors.
The company could reduce its ownership of Vantage SDC – a holding firm for stabilized Vantage assets – from 13 percent to just under 10 percent. It built its stake in the company starting in 2020. Bloomberg has previously said a deal for Vantage could raise more than $1.5 billion, according to people with knowledge of the matter said; Digitalbridge is said to be working with UBS Group AG to gauge buyer interest.