A vacant data center in Hauppauge, New York, has been sold for $21 million.
Real estate brokerage firm B+E announced the sale this week. The buyer was not disclosed.
Update: Newsday reports that Link Logistics, a logistics firm owned by Blackstone, bought the building to tear it down and redevelop it as a Class A distribution center, said David Pennetta, executive director of commercial real estate brokerage Cushman & Wakefield of Long Island, which represented the buyer.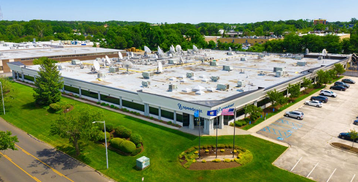 Sitting on a seven-acre plot, the 122,570 sq ft (11,380 sqm) facility at 45 Oser Avenue was built in 1997. The Tier I quality facility, located in the Long Island Innovation Park (formerly Hauppauge Industrial Park), has eight data halls.
Satellite communications firm Speedcast (Globecomm), which took occupancy of the property in 2000, filed chapter 11 bankruptcy in April 2020 and subsequently rejected its lease. Subleasees Showtime (17,000 square feet) and the GSA (14,000 square feet) will be vacating the property later this year.
B+E noted the new owners would have the opportunity to lease or occupy the facility as they see fit, and said it was able to target a potential buyer audience 'beyond traditional data center owners and operators.'
"B+E's marketing approach of broadening the buyer pool resulted in multiple first-round offers," said B+E broker Tim Taylor. "We led a competitive bidding process that ultimately drove the sale above the original asking price."
Speedcast acquired Hauppauge-based Globecomm for $135 million from affiliates of HPS Investment Partners, LLC Tennenbaum Capital Partners LLC in 2018.
The company filed for Chapter 11 bankruptcy protection in April 2020 with debts of nearly $700 million as Covid-19 impacted its core maritime customer segments such as cruise liners and oil; it completed its restructuring in March 2021.
Competition for suitable land and power in and around major metro areas means data centers and logistics companies are increasingly competing for the same properties or development opportunities.