The US Department of Energy has launched a 40 petaflops supercomputer as a testbed for the upcoming exascale Frontier system.
The 'Crusher' supercomputer is a 1.5-cabinet iteration of the Cray EX Frontier supercomputer, which spans 74 cabinets.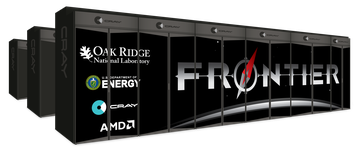 Frontier was installed in late 2021 and is undergoing integration and testing, amid reports of interconnection issues. The 2 exaflops system is expected to launch in the second half of 2022, and enter full user operations on January 1, 2023, according to Oak Ridge National Laboratory.
That will make it the US' first exascale supercomputer, ahead of the also delayed Aurora supercomputer.
Crusher features 192 HPE Cray EX nodes, each with one AMD 'Trento' 7A53 Epyc CPU and four AMD Instinct MI250X GPUs. Each node has 512GiB DDR4 memory on the CPU and 512GiB HMB2e (128GiB per GPU) with coherent memory across the node. Nodes are connected by HPE's Slingshot-11 interconnect.
"Crusher is the latest in a long line of test and development systems we have deployed for early users of OLCF platforms and is easily the most powerful of these we have ever provided," said ORNL's Bronson Messer, Oak Ridge Leadership Computing Facility (OLCF) director of science.
"The results these code teams are realizing on the machine are very encouraging as we look toward the dawn of the exascale era with Frontier."
The OLCF is hosting hackathons to get users used to Crusher, and later Frontier.
"As more people run on this hardware — when we have more codes and styles of programming on the system — it provides us opportunities to discover and overcome challenges and prepares us to run science on Frontier with no hiccups," said ORNL's Bálint Joó, group leader of the OLCF's Advanced Computing for Nuclear, Particle and Astrophysics Group.
HPE notes that at 44 sq ft, Crusher is 1/100th the size of the previous 27-petaflops Titan supercomputer that had been in the space since 2012, but faster than the entire 4,352 sq ft system was. Titan was decommissioned in 2019.