Netrality Data Centers has shared more details about its disagreement with Lifeline Data Centers regarding the latter's impending exit from the former's recently acquired carrier hotel in Indianapolis, Indania.
Reports surfaced earlier this week that Lifeline has informed customers that Netrality was 'pushing it out' of the primary carrier hotel on campus at 733 West Henry Street after looking to raise the rent by 300 percent. As a result, Lifeline said it will not be renewing the lease, which is set to expire at the end of the year on December 31st.
Netrality has now hit back, saying it was merely offering market rates for a new long-term lease on par with other clients at the campus. It is also aiming to buy Lifeline's business at the campus.
"In addition to allowing Lifeline to leave the premises as is, enabling the customer to remain in place with uninterrupted service, we've offered to purchase Lifeline's business at 733 W. Henry Street," a spokesperson told DCD. " We have made an information request and are waiting for diligence information from Lifeline."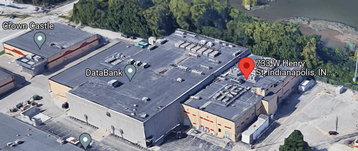 Netrality offers 'market rates'
Netrality Data Centers acquired Indy Telcom Center, a carrier hotel provider in Indianapolis, in July 2021. It subsequently acquired 365 Data Centers' facility on the campus in April 2022. Terms of neither deal were disclosed. The 9-acre campus on West Henry Street houses 205,000 square feet (19,000 sqm) across 11 buildings dedicated to both wholesale and powered shell tenants as well as fiber customers. As well as Lifeline, DataBank also has a facility on the campus.
Netrality sent a letter to Lifeline customers who reached out to it. In that letter, which Netrality has shared with DCD, the colocation firm has put the blame for the current situation on Lifeline.
"It should be made clear that Lifeline's soon-expiring lease has been in place for over 15 years without any escalation in the rental rate and is, therefore, outdated and well below the market rate of rent for a data center like the one existing at 733 W. Henry Street."
The company said the new rate being offered was "well in line" with market pricing and "consistent" with recently negotiated renewals of other tenants on the campus.
Lifeline was reportedly presented with a lease extension proposal for 733 W. Henry Street "at a market rate of rent" and for a term of up to 30 years. Netrality said Lifeline rejected this proposal and subsequently refused to accept Netrality's offer to come to Indianapolis to meet in person and "try to reach mutually agreeable terms".
Lifelife has told customers at 733 West Henry Street to vacate the facility by the end of the year in order for Lifeline to meet the terms of its lease. However Netrality has said this isn't immediately necessary and would allow Lifeline's customers to "stay in place and maintain continuity of service" through at least the December 31, 2022 expiration date.
"We have been told by some of the customers of Lifeline Data Centers, that Lifeline, a tenant of Netrality Data Centers' affiliate Netrality Indy Multiparcel Owner, LLC at Indy Telecom Center (specifically, at 733 W. Henry Street), has elected to cease operations at Indy Telcom Center when its lease expires on December 31, 2022," Netrality said.
"While it is true that Lifeline's lease would require it to surrender this space "in substantially the same condition" as at lease commencement, Netrality Data Centers recognizes the potential disruption to Lifeline's Indy Telcom Center customers and has therefore offered to waive this condition by allowing Lifeline, upon lease expiration at the end of 2022, to vacate and surrender the 733 W. Henry Street premises to Netrality Data Centers in its as-is condition."
Netrality also suggested it would be happy to take on any existing Lifeline customers at the site into its own facilities on the campus.
"We understand the transitory challenges posed by the expiration of Lifeline's lease and regret the inability to arrive at agreeable terms with Lifeline," the company said. "Please understand that any challenges posed by this situation were not the result of any choice, action, or inaction on the part of Netrality Data Centers."
Lifeline has two other data centers in Indiana; one in Indianapolis at 401 North Shadeland Avenue, and another in Fort Wayne at 7601 South Anthony Boulevard.
DCD previously reached out to Lifeline when publishing the original story, and is still yet to hear back. If you have been impacted by this news, please reach out to us.