A tax break package for a proposed data center in Eagle Mountain County, Utah is set to go for a vote - while the identity of the company behind the large facility remains hidden.
DCD was unable to conclusively confirm the proposer, but the strongest clues we found point to Facebook as the company behind the project - with some evidence to suggest it might be Amazon. We will update this story if we find out more. If you have further information, let us know.
What we know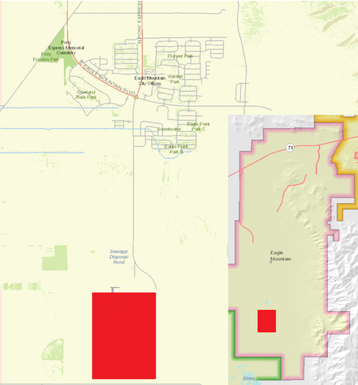 This Wednesday, The Alpine School Board of Eagle Mountain County is set to vote on a proposal to build a data center on 487.5 acres of land in the Community Reinvestment Project Area #1. Utah County and the Central Utah Water Conservancy District also need to vote on the proposal, which has been approved by Eagle Mountain and the Unified Fire Authority.
The company, only revealed as a Fortune 100 firm, promises to invest $100m in infrastructure including power, water, sewer, and widening Pony Express Parkway from Eagle Mountain Blvd. south. The facility itself is planned to cost $750m in its first phase, and will be 100 percent renewably powered in conjunction with Rocky Mountain Power.
Deseret News reports that the tax break proposal includes $150 million in tax breaks to offset its infrastructure costs. It would suspend 100 percent of taxes on the company's personal property investment for 20 years, with a projected value of $375 million, and extends an 80 percent break on tax liabilities for an estimated $375 million in real property investment.
Should the site be approved without delays, work is expected to begin this year. It could lead to 30-50 jobs with the company, as well as several hundred support positions and hundreds of temporary construction jobs.
What we think
Unfortunately, the county and the state of Utah have elected to keep the name of the company secret, "because it continues to be a competitive process."
It is not unusual for large companies to hide the fact that they are behind a data center project until the last possible moment - sometimes to ensure that tax break negotiations are not wrapped up in discussions over the huge profits the company makes, and sometimes to ensure that their data center plans are not easily followed by the competition.
We were able to glean some information from public documents, but were, alas, unable to find a direct link to any company - just hints.
Records of Eagle Mountain County meetings show that the company is referred to as 'Stadion, LLC,' a company created purely for this negotiation process.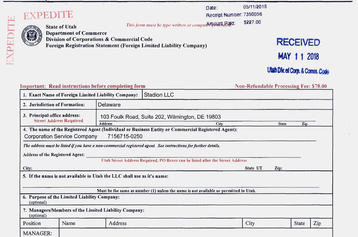 With Stadion officially based in Delaware, to operate in Utah it had to apply for a certificate of authority for a foreign limited liability company (with 'foreign' meaning not from Utah).
In the certificate, it reveals a principal address of 103 Foulk Road, Suite 202, Wilmington, DE 19803, and says that the agent responsible for creating Stadion was Corporation Service Company, a Delaware-based business, legal and financial services provider.
Here, the trail mostly runs cold, but leaves us with signs that the mystery company could either be Facebook or Amazon.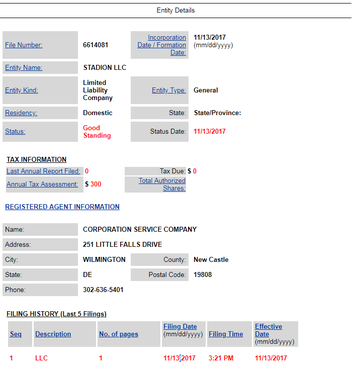 The case for Facebook
Corporation Service Company was previously used by Facebook when it negotiated with Sarpy, Nebraska under the pseudonym 'Raven Northbrook.'
Facebook also has a history of obscuring its name, operating through a company called Greater Kudu LLC when it considered either Utah or New Mexico as the location for its next data center, as well as operating under Project Echo for a Virginia data center.
The company also has a track record of announcing data centers that cost $750 million including in New Albany and in Atlanta. A Utah County Commission tweet notes that the data center could span 970,000 sq ft - the same size as Facebook's Atlanta site, and its Virginia site.
Finally, the Governor's Office of Economic Development Executive Director Val Hale noted that Utah Gov. Gary Herbert visited the unnamed company "almost exactly a year ago." Deseret reports that around that time, Herbert left for an "economic development" trip to Palo Alto, California - home to Facebook's headquarters.
The case for Amazon
If that sounds like compelling, there's some other circumstantial evidence pointing to Amazon. The e-commerce giant is also a Corporation Service Company client, although it is not clear if it has used CSC for data center purposes.
Amazon also has a business at the same address as Stadion. 103 Foulk Road appears to be used by multiple businesses as a corporate address, but only one of them stands out - Swift Club LLC.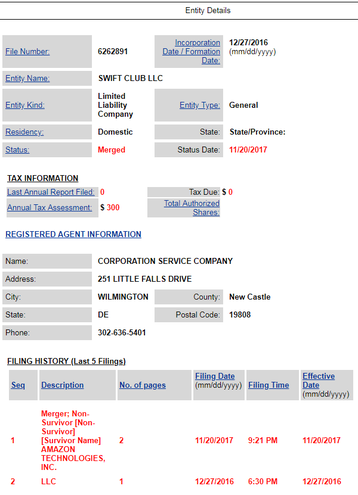 Also registered to CSC, Swift Club is actually owned by Amazon. It seems to have been temporarily used to hold Amazon Echo trademarks, but Delaware state documents reveal it was merged with Amazon in November 2017. Both Swift Club and Stadion have an annual tax assessment of $300.
Gov. Gary Herbert's travel itinerary could also point to Amazon, as he has visited both companies. Last June the governor announced that Amazon's e-commerce division would be opening a $200 million 'fulfillment center' in Utah, after Herbert traveled to the company's headquarters in Seattle.
What's next
Here at DCD, we're going to keep looking for definitive proof, although we are tempted to lean towards Facebook, simply because the size and cost of the project match other Facebook facilities. Should you know more, you can confidentially contact our tip line.
Until then, the Alpine School Board plans to vote on the deal, without knowing the true owner of the site.
Board member Wendy Hart told Deseret: "To make a decision with this potentiality, without knowing who this organization is, that's really hard for me to take on faith. But we weren't elected to trust you. We were elected to listen, to collaborate and to partner."