The University of Maryland (UMD) has launched a new high-performance computing (HPC) environment in a DataBank facility in McLean, Virginia.
DataBank said this week that UMD's Zaratan HPC environment is now live in the colo firm's IAD2 Data Center.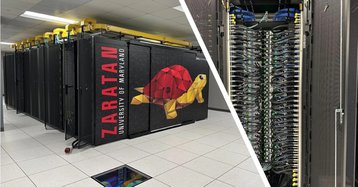 "DataBank knows how to support high-performance computing environments. We have the right team in place with the proper skills as well as the power density and cooling necessary to host these important environments for college research institutions," said DataBank CEO Raul Martynek. "We are, essentially, the 'easy' button for HPC and honored that UMD has entrusted us with their Zaratan environment."
Zaratan features 360 compute nodes, each with dual AMD 7763 64-core CPUs. There are also 20 GPU nodes, each containing four Nvidia A100 GPUs (for a total of 80 GPUs). The system's theoretical peak performance is 3.5 petaflops.
The Zaratan cluster is the University's flagship cluster, replacing the university's 160 teraflops Deepthought2 cluster. The university also operates the 20-node Juggernaut cluster consisting of a variety of Intel Skylake, Broadwell, Cascade Lake, and Skylake processors alongside a small number of Nvidia GPUs. UMD has said Juggernaut hardware will likely be merged into the Zaratan cluster in the near future.
IAD2, located at 1764A Old Meadow Lane in Virginia's Fairfax County, offers 2.7MW of capacity. It is owned by Mapletree Industrial Trust, which says the site offers 62,000 sq ft (5,750 sqm). The facility was previously operated by zColo after Zayo bought it in 2018; DataBank acquired Zayo's zColo in 2020.
"Our flagship HPC cluster, Zaratan, will support world-class research at UMD and help our researchers push the frontiers of science," said Tripti Sinha, assistant vice president, and CTO at UMD. "Partnering with Databank and others to build out this first-rate data center facility where Zaratan is housed helped make this possible."
In 2019, Georgia Tech deployed an HPC environment in DataBank's ATL1 data center, located in the CODA building of Georgia Tech's Technology Square.