Unisys Corp. plans to sell and exit its 32-acre data center campus just outside of Minneapolis, Minnesota.
The technology company this week confirmed to BizJournal its plans to exit the site in Eagan in Dakota County and relocate to a yet-unknown spot elsewhere in the Twin Cities area.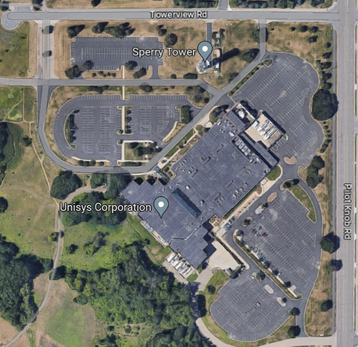 "We intend to relocate our associates, data center, and lab space located in Eagan to another space within the Minneapolis market," Shea Kolanowski, Unisys' deputy chief administrative officer, told BJ. The company said it has not yet determined a new location for its operations.
The site, located at 3199 Pilot Knob Road, was built in 1986 and is owned by Unisys. The company also does not have a finalized date for when it plans to leave, but the site is on the market for sale with Cushman & Wakefield.
A Baxtel entry lists the two-story building as featuring 118,000 sq ft of raised floor. A LoopNet lease listing suggests the site totals 248,480 sq ft. The data center site was expanded in 2007.
BJ suggested the property is valued at around $13.2 million.
Unisys was formed in 1986 through the merger of mainframe corporations Sperry and Burroughs. Headquartered in Blue Bell, Pennsylvania, today the company offers a range of technology consulting and service offerings.
The Eagan site was built after the Sperry/Burroughs merger to consolidate the two companies' operations in the area.
DataBank operates a data center in Eagan that is owned by Mapletree. A former Delta Airlines data center close to the Unisys site – previously a Sperry semiconductor site – was bought by Digital Realty in 2013 but is no longer listed on the company's website.
Thompson Reuters also had an office and data center campus in Eagan, including three data centers, one of which was built around 2008. In January 2023 the company announced plans to sell the majority of the campus, including the data centers, totaling more than 1 million sq ft of office space and some 90 acres of undeveloped land as part of its own relocation efforts.
The city is putting together a small-area plan to address the future of three office and data center sites, including the Unisys campus, the former Delta Air Lines data center, and a nearby former Argosy University site.
"These sites are now vacant or underused and candidates for rehabilitation and/or redevelopment," according to the city's description of the in-progress small area plan, called The Northwest Central Commons Small Area Plan.
The city said a study is assessing the potential reuse of the buildings as well as whether the land can be redeveloped for other uses, such as residential, commercial, and/or public spaces. All three are currently zoned for mostly office uses – a land use that the city said is experiencing "high levels of vacancy" throughout the Twin Cities.