London-based quantum computing firm Orca is leading a project to build the quantum-safe data center of the future, backed by £9 million ($12m) from the UK government.
Orca, along with KETS Quantum Security, will look into how quantum technology can help to integrate data centers with emerging quantum technologies. Among the benefits will be securing data against future attacks from quantum systems. It's the largest item in a £50 million ($67.8m) package of projects announced by UK Research and Innovation (UKRI), a body sponsored by the Department for Business, Energy and Industrial Strategy (BEIS).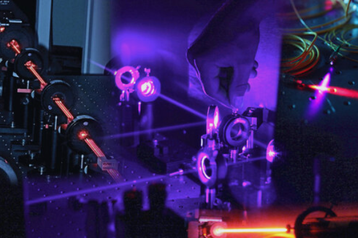 The UK Science Minister, George Freeman, also signed a quantum collaboration agreement with the US Director of the White House Office of Science and Technology Policy, Dr Eric Lander. The agreement promises to promote joint research into quantum science and technology, as well as building a global market and supply chain, and training a new generation of quantum scientists and engineers
Making the cloud quantum-safe
Orca, working with KETS and other project partners including BT, will explore how quantum systems will work alongside existing and future data centers, to manage and secure increasingly complex data. Already, some are warning that thieves are harvesting and storing existing data for eventual decruption by quantum cryptography algorithms, so the project will look at making today's data centers "quantum safe", as well as the potential for future quantum data centers.
"In today's world we don't go 30 seconds with touching digital technology, all of which is networked, none of which is quantum-safe, and increasingly it's being processed and stored as high value treasure troves of information in data centers, said Chris Erven, CEO at KETS. "Tomorrow we'll be making all of the classical data you're sending to the cloud quantum-safe. The day after we'll help make the quantum data you're sending to ORCA's quantum computers safe as well."
The project look at the internal operation of modern data centers, as well as how users access data and computing resources remotely, to provide a future-proof system that is secured against both conventional and quantum computing attacks, said KETS. It will look at tools including quantum random number generation, quantum key distribution and post-quantum cryptography.
The project will work with BT to deploy quantum solutions into metro networks and data centers for critical real-world validation.
In a related £3 million project, Arqit will look at quantum-safe encryption technologies for satellite-based communication networks, to ensure long term data security
Other projects in the group include
Aeon-Rb, a £2.5 million project led by HCD Research, to develop a new generation of quantum clocks for super-accurate, timing for the critical national infrastructure.
Altnaharra, a £4.3 million project to make a cryogenic chip for integrated qubit control, using standard CMOS fabrication. Such a chip would be a fundamental enabler of commercial quantum computing.
Autonomous quantum technologies (AutoQT), a £5.3 million project led by Riverlane, to work on controlling the hundreds of qubits that will be required in future quantum systems
Calcium ion frequency standard (CIFS), a £2.1 million project led by TMD Technologies to make a highly accurate trapped ion quantum clock.
Error corrected quantum processor, a £5.6 million project involving Riverlane, Rolls-Royce, Imperial College, and Hartree to make quantum systems less reliant on cryogenic cooling and therefore more easily turned into commercial systems.
Cryo-CMOS, a £4.8 million project in which Surecore will look at scaling superconducting qubit production.
HYDrogen sensoR for Industry (HYDRI), a £2.5 million project led by BP to create quantum gas sensors useful in the emerging hydrogen economy which could help the environment by detecting gas leaks.
Quantum enhanced computing platform for pharmaceutical R&D (QuPharma), a £4.7 million project led by SEEQC, to use quantum technology in drug discovery, potentially creating and designing new drugs faster than is possible with current supercomputers. Other partners include Merck, Riverlane, Oxford Instruments, the University of Oxford, the National Quantum Computing Centre, and Hartree.
Underwater single-photon imaging system, a £2.7 million project in which Sonardyne will use photon detection to create high-resolution 3D maps of the sea floor.
UpScale: a £3.1 million project involving Fraunhofer UK, to develop scalable quantum computing technologies for multiple industries.
Science Minister George Freeman said: "Quantum computing technologies have the potential to revolutionize the power of computing across our economy and society: from speeding up the development of new drugs, to climate change monitoring to the way we send and receive information. That's why we are signing our UK and USA collaboration agreement on quantum technologies, and supporting these projects which demonstrate our continuing commitment to investing in this exciting area of research."