A UK hospital is getting a £400 million ($494m) redevelopment, including a data center.
Kettering General Hospital (KGH) in Northamptonshire had its rebuild confirmed in a meeting in the House of Commons.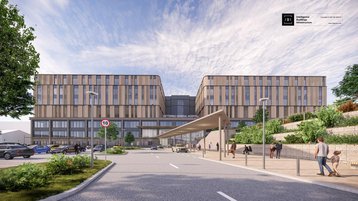 The project will see the KGH, which has been located at the same site for 126 years, get a "£400m+ fully funded, redeveloped, improved and expanded" hospital by 2030, with construction kicking off in 2028.
Philip Hollobone, Kettering MP, said: "This is really good news for local residents. The redevelopment of KGH is the number one local priority for local people."
"I have been pressing the government to reconfirm its commitment to the redevelopment of KGH and I am really pleased that the Secretary of State has confirmed to me in person in the House of Commons that the funding commitment is fully secured in line with the original development timeline," Hollobone added.
The development will include a new on-site data center, though size and capacity details were not shared. The government has promised that the hospital will have "digital connectivity" and integrated systems to improve patient care.
The site will also include a £34 million ($42m) net-zero energy plant, for which initial enabling works are underway and construction will commence in 2024. Integrated Health Projects is KGH's construction partner.
The development will also involve the building of a highway trench for a £4 million ($4.9m) high-voltage (HV) cable connecting the nearest HV substation to KGH. Installation of the cable will commence in January 2024, with work done by High Voltage Systems & Services.
The UK government committed to rebuilding 40 hospitals by 2030 in 2019. According to the House of Commons transcript, this remains on schedule, though this is contested by the opposition and media reports.
Data centers play an extremely important role in the healthcare sector. Last summer, an outage at two London hospitals during the heatwave reportedly cost the UK's national health service (NHS) £1.4 million ($1.7m). A similar disruption was experienced by the Royal Adelaide Hospital, Lyell McEwin Hospital, and Modbury Hospital when a fire broke out in Glenside Data Centre in Adelaide, Australia last month.