Turkish telecoms company TurkNet has signed an agreement with DE-CIX Istanbul, enabling it to provide IP connections in its Gayrettepe data center.
The facility, located on the outskirts of Istanbul, will connect with DE-CIX's Internet peering network, which offers exchange services between Turkey and the Balcans, the Caucasus region, Persia and the Middle East.
Internet peering describes voluntary interconnections between individual carriers' networks to achieve settlement-free exchange of data.
"As a member of the Turkish Network Alliance Platform (TNAP), we established our strategy based on redundancy and ever-increasing quality," Cem Çelebiler, TurkNet's general manager, said.
"After launching direct exchanges with Facebook and Google in previous months, the agreement with DE-CIX represents another crucial step toward achieving our strategy. By carrying our Internet traffic to DE-CIX's Internet exchange point in Istanbul, we will continue to increase our traffic quality. We plan to strengthen our network with similar collaborations in the near future."
TNAP is an alliance of major Turkish telecoms providers that aims to improve Internet traffic quality by establishing a modern fiber backbone to be used collectively by its members.
Peer support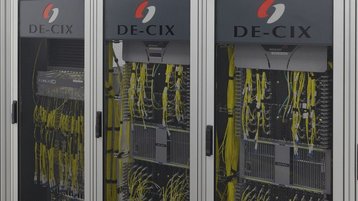 DE-CIX services will now be available across five sites in the Turkish capital, as well as more than 20 access points in Ankara, Bursa and Izmir.
It is entirely owned by eco, the German Association of the Internet Industry which, with more than 900 member organizations, is the largest Internet industry association in Europe. More than 800 customers from about 60 countries use its peering platform.
DE-CIX has its headquarters in Cologne, Germany and is involved in 'all relevant political decision-making processes in Brussels', its website says.
"Since DE-CIX Istanbul's start of operations in 2015, we have established a significant footprint in the Istanbul metro region," said Bülent Şen, DE-CIX's regional director of Turkey.
"Every new enabled site, including TurkNet's data center, increases the access points for other networks to join the exchange. With every new network, the networks' IP quality is enhanced, as is the end-user Internet experience."
The lay of the land
Over the past year DE-CIX has been establishing peering links with data centers across southern Europe, with an aim to strengthen ties with Africa and the Middle East.
In April 2015 the organization kicked off provision of Internet exchange services from Interxion's Marseille data center, exploiting the facility's proximity to landing stations of subsea cables stretching between Europe, the Middle East and North Africa.
DE-CIX Palermo was launched in September 2015 at the 2,000 square feet Sicily Hub data center, which is linked to more than 15 subsea cable landing stations on the island and is closer to North Africa than any other European landmass.
The Turkish data center market is enjoying significant growth as it exploits the nation's geographical significance, acting as a bridge between Europe and Asia, as well as supporting close links with the Middle East and North Africa. Turkey's largest data center was opened earlier in June, bolstering the 'digital Silk Road' that notionally runs from southern Europe to east Asia.