Turkcell has inaugurated a new data center in Turkey.
The telco has opened a new data center in the Kapaklı district of Tekirdağ, to the west of Istanbul on the northern coast of the Sea of Marmara.
The company reportedly spent $295 million on the project, known as the European Data Center. The ​​37,277 square meter (400,000 sq ft) facility has 7,238 sqm (78,000 sq ft) of white space from which to offer services such as colocation and disaster recovery.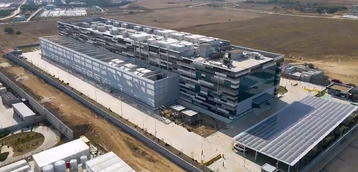 The LEED Gold and Uptime Tier III-certified facility is built to withstand magnitude 9 earthquakes. The campus includes 1,200 sq m of solar panels to help power the data center and has 6,000 sensors for monitoring the building and equipment.
"Turkey, which has become a gateway for Internet traffic; it has a key importance in the transportation and storage of data," said Turkcell Chairman of the Board Bülent Aksu. "At Turkcell, our aim is to make our country the world's leading 'data and cloud technologies base' by using the advanced and innovative technology of our company with this geographical superiority."
During the opening ceremony, Minister of Transport and Infrastructure Adil Karaismailoğlu emphasized the growing issues of data protection, privacy, and data sovereignty, saying that 'Turkey's data should stay in Turkey.'
"Domestic data center investments are indispensable for the privacy of the data of our country, our citizens, and businesses that create value for this country," he said.