Toyota Motor Corp is looking to sell a stake worth about 250 billion yen ($1.80 billion) in telecoms company KDDI Corporation, as part of a share buy-back scheme.
The Japanese automotive manufacturer wants to raise funds to accelerate vehicle electrification, reports Reuters. A potential sale would take Toyota's stake in the Japanese telco from 14.68 percent to 11.71 percent.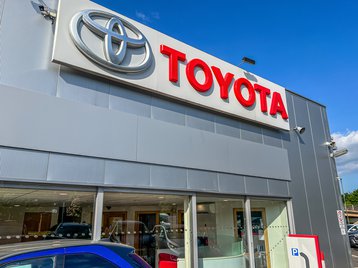 Toyota said last week that KDDI will buy back shares at 3,900 yen a piece between July 31 and August 28, which is 8.7 percent lower than KDDI's closing price of 4,271 yen on Friday.
Toyota's decision to sell a chunk of its stake in KDDI comes as the company looks to invest heavily in its battery electric vehicles (BEVs).
The duo has a long-standing partnership dating back to the 1980s, with Toyota being KDDI's third-largest shareholder behind The Master Trust Bank of Japan and electronics company Kyocera.
Back in 2020, Toyota pledged an investment of 52.2 billion yen ($366.7 million) in KDDI to strengthen their partnership around 'connected car' development.
More in The Investment & Markets Channel