TMGcore has launched a single-phase, immersion-cooled, high-performance computing (HPC) system.
The company already has a two-phase liquid cooling system called Otto, but ComputeCore is a single-phase immersion cooling tank. It has a capacity of 48 rack units (48U), and can contain 200kW of computing power, in a space of 26 sq ft (2.4 sqm).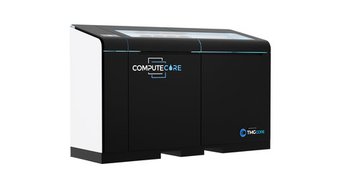 Immersion cooling systems flood electronic systems with dielectric fluid to remove heat from servers amd other electronics. Two-phase systems like Otto allow cooling fluid to evaporate, carrying away more heat, while single phase systems just allow it to circulate, removing heat by convection.
Most vendors in the immersion cooling space are resolutely single-phase or two-phase. Single-phase immersion players include Asperitas, GRC, Iceotope and LiquidCool, while two-phase cooling vendors include LiquidStack and Zutacore. Single-phase vendors usually say their technology is more reliable, while two-phase vendors point to better heat removal.
TMGcore says its single-phase ComputeCore is silent, with no fans, and does not need complex setup or air conditioning. It is agnostic to which servers it contains, as well as what cooling fluid is used It includes management systems and remote monitoring.
The system is being shown at Dell Technologies World in Las Vegas.