Yesterday's (April 23) emergency test alert trial in the UK didn't go quite as planned, as many mobile phone users didn't receive the 10-second-long pinging message.
Although some chose to switch off the notification, many reported on social media that they never received the alert, with mobile network Three being the worst offender.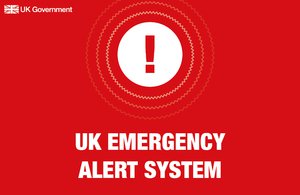 It's led the operator to investigate why many of its users didn't get the message at 3pm yesterday afternoon, which was meant to reach all 4G and 5G handsets.
"We are aware that a number of customers have not received the test alert," said a Three UK spokesperson. "We are working closely with the government to understand why and ensure it doesn't happen when the system is in use."
One user on Twitter, mobile networking hobbyist David Wheatley, suggests that Three likely didn't propagate the message correctly through its core, noting that on his Three device he received zero signaling at all for the alert from the local Samsung or Ericsson sites.
The premise of the test was to trial the public safety message in the event of a crisis, such as flooding or fire, and was conducted by using mobile broadcasting technology which used cell towers, rather than via SMS messages.
"The Government's number one job is to keep people safe and this is another tool in the toolkit for emergency situations, such as flooding or wildfires, and where there is a genuine risk to life. So it really is the sound that could save your life," said Deputy Prime Minister Oliver Dowden.
Everbridge, the US company which is behind the build of the UK's alert system, has also worked on similar systems in Germany, Spain, New Zealand, and Singapore.
Other people noted on social media that the text alert came in a minute earlier than expected at 2:59 pm, while some Welsh users pointed out a spelling mistake, saying that the alert read "eraill yn Vogel" when it should have said "eraill yn ddiogel."