The unusual pyramid building in Gaines Township, Michigan is attracting the attention of an unnamed data center developer.
The building was formerly owned by Steelcase, the largest office furniture manufacturer in the world, and is still popularly known as the Steelcase Pyramid.
The project to turn the local landmark into a data center was discovered through the legal documents submitted to the state government in order to ask for industry-specific tax exemptions.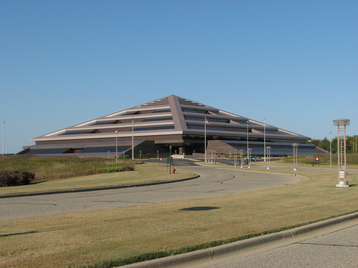 A landmark data center
The seven-story Pyramid building located at 6100 E. Paris Ave. SE was used by Steelcase as a corporate design center.
It was built for $111 million and opened in 1989, but Steelcase had to move out in 2010 as its profits were hit by a global recession. The Pyramid was then sold to property developers for an estimated $7.5 million in 2014.
Some of the building's unique features include an exterior of glass and granite, a two-level industrial underground complex and 'Synergy', the only spherical compound pendulum in the world that constantly swings in the atrium between the points of sunrise and sunset.
According to the local news agency WZZM, the cost of the potential data center project at the site could reach $5 to $10 billion.
Another local news organization, Wood TV8, suggests that the parent of the company that may move into the Pyramid is Switch Communications.
The unnamed organization has asked the state government for sales tax, property tax, and use tax exemptions for its project. WZZM says the applicant is in a rush to complete all of the required paperwork so the contrsuction can start at the beginning of 2016.