Thales Australia and Goonhilly Earth Station are working on optical communication systems to improvement communications through Earth's atmosphere.
The research project, funded by Australia's SmartSat Cooperative Research Centre (CRC) will fund three year's research into using laser beams to carry high data rate communications into space.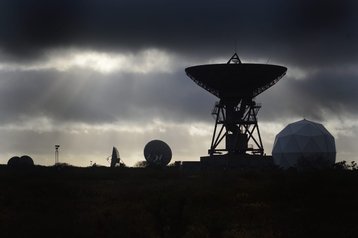 Cutting through the atmosphere
The partners have already carried out a one-year feasibility study, which demonstrated free-space optical links over 2.4km and 10km. SmartSat is putting up a three-year commitment aiming to eventually develop advanced laser communications technologies which can keep high data rate links up, through Earth's turbulent atmosphere, to satellites and systems in deep space.
The project aims to support fiber optic transfer rates over free-space communications links through the atmosphere, using active optics technology and a free-space coherent phase-stabilization system. The project will develop from the feasibility study, which looked at horizontal links up to 10km, and point the lasers upwards to make links with low-altitude targets, then light aircraft and eventually objects in the stratosphere.
The project will be led by Dr. Sascha Schediwy from the University of Western Australia, with Goonhilly Earth Station, the Universities of South and Western Australia (UWA), and Defence Science & Technology (DST). Thales Australia has signed a Strategic Statement of Intent signed by Thales and the Australian Space Agency in December 2019.
"This project is an important step towards the ultimate objective of achieving high data rate satellite to ground optical communications," said Michael Clark, director technical strategy, Thales Australia and New Zealand.
"Goonhilly's future ground terminals in the UK and overseas will incorporate free space coherent optical communications capabilities and this aligns perfectly with the strategic objectives of Thales," said Dr. Bob Gough, head of business development, Australia & APAC, Goonhilly Earth Station
"Optical communication links are poised to become the only viable solution to meet the data transfer needs of future space communication systems in the rapidly growing $400 billion global space economy," said Professor Andy Koronios, CEO of SmartSat Cooperative Research Centre.