Romanian data center developer Tema Energy is to go public, as its customer ClusterPower officially launches its first data center.
Tema Energy announced this month that it is to be listed on the Bucharest Stock Exchange in the first half of 2022.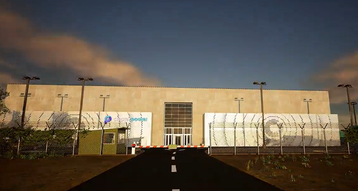 Founded in 2002, the company offers construction and equipment services. Most recently it delivered a 13-rack container to the Romanian Police force.
According to Forbes, Tema is going public following the positive results recorded last year. In 2021, the company had a turnover of €8.75 million ($9.5m); up 22 percent on 2020, with profit increasing by 40 percent.
"Listing on the Stock Exchange is a validation of our path and potential," said Mihai Manole, managing partner at Tema Energy. We want a healthy free-float that ensures a real and fair market value, but we are not in a hurry - we remain flexible and responsible towards the business and the other shareholders. The scholarship will create multiple tools that we are ready to capitalize on. These include the access to capital for new strategic directions, through the issuance of shares or bonds, acquisitions and, last but not least, the motivation and retention of essential personnel – a key resource for Tema Energy activity."
The company aims to increase its turnover by 10-15 percent annually in the next five to ten years and expand into neighboring countries. The listing process is assisted by Goldring, an investment company from Târgu Mureș.
ClusterPower opens its doors
Another Tema customer, ClusterPower, has just opened its first data center in the country. The company broke ground on the first data center in October 2021 and opened it last week.
"At the end of last week, ClusterPower has proudly launched its first data center during an exclusive event in Craiova and at the technology campus premises, in Mischii. The €40 million investment was finalized in record time, taking only around 6 months to build," the company said on LinkedIn.
There are due to be five buildings built on the 25,400 sqm (273,400 sq ft) campus, located in the village of Mischii, in Dolj county. The ClusterPower Technology Campus will have capacity for up to 4,500 racks and 200MW, and be powered with natural gas. Campus completion is scheduled for 2025.
During his speech, ClusterPower CEO Cosmin Georgescu, ClusterPower CEO, told customers the facility was "your home; a digital airport from where you can access in a split second Frankfurt, Dubai, Tokyo, London, Amsterdam or Paris. A place where performant equipment works around the clock to fulfill its protecting role, to keep your data safe."
ClusterPower was founded in 2019 by Romanian entrepreneurs Cosmin Georgescu, Vladimir Ester, and Carmen Ursa Georgescu. The founders have previously had roles at energy firms Actual Connect and Romib SA, as well as technology and telco companies Datanet Systems, IT Prepared, Cisco, and Telekom Romania.
More in Construction & Site Selection