European telco Telia has signed a Power Purchase Agreement (PPA) to procure wind energy and power its operations in Estonia.
Telia and public energy company Eesti Energia has signed a deal for the energy company to supply 156GWh of renewable wind electricity to Telia over five years, starting end of 2022.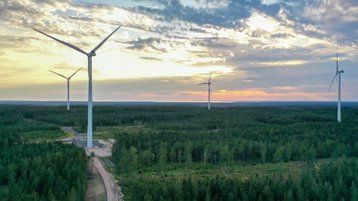 This deal will cover 70 percent of the power needs of Telia's fixed and mobile network, server rooms, control center, and offices in the country.
Rainer Deutschmann, Group COO at Telia Company, says: "To deliver sustainably and support the transition to low carbon societies, Telia is committed to run our networks and business only on renewable electricity. Moving into the PPA space is an important step to achieve that long-term, while providing certainty to both energy producers and us as a buyer."
During 2021, Telia had a total electricity consumption of approximately 1 TWh across its own operations in all markets. The company says it has been 100 percent renewable since 2020 through the use of Guarantee of Origin certificates, and has been using entirely renewable energy in Sweden since 2007. The company hasn't set an overarching net zero/carbon-neutral goal.
Telia recently signed a PPA alongside Telenor with Better Energy in Denmark to procure solar energy. Its Finnish data center is connected to a district heating scheme and is using its UPS batteries to donate energy to the local grid.
Eesti Energia Group aims to increase renewable energy production capacity from current levels to almost 2,100MW by 2025. In 2021 Eesti Energia group announced plans for 190MW of wind developments with an investment of €228 million ($241.2m). Its most recent investment in the space was to announce plans for the 72MW Tolpanvaara wind park in Finland.