Scandinavian telecommunications giant Telia has officially opened its massive colocation data center in Helsinki.
The carrier-neutral facility offers 24MW of power capacity, and its architects call it one of the 'greenest' data centers in the world. The site is powered by 100 percent renewable energy and will recycle waste heat from the servers, producing 200,000 MWh per year - enough heat to supply 20,000 homes in the nearby town of Espoo.
The opening ceremony was attended by the mayor of Helsinki and representatives of the Finnish government.
"I welcome you and your data"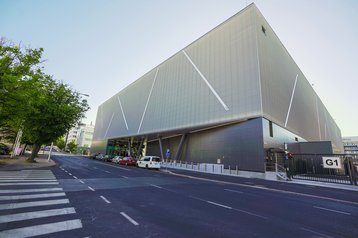 Telia Company is the largest telecommunications provider in the Nordics – expanded in a 2002 merger between Sweden's Telia and Finland's Sonera. It runs a healthy wholesale networking business, owns multiple well-known consumer brands and operates a fleet of data centers, both internal and available to the public.
The data center on Valimotie 5, in the northwestern suburbs of the Finnish capital, was announcedin 2015. The project was carried out by local construction company SRV, and involved nearly 2,200 workers.
The €160 million facility offers 34,000 square meters of space - enough for 5,000 racks and up to 200,000 servers.
Telia's data center product manager Eero Lindqvist previously told DCD that the site could eventually grow to support up to 100MW of IT load.
"The data volumes are growing at a huge rate, which means that we have to build new kinds of secure data factories," said Stein-Erik Vellan, CEO of Telia Finland.
"The Helsinki Data Center is designed specifically for this purpose. In addition, the building is strongly linked to Telia's international network, through which almost 40 per cent of the internet traffic of the whole world is carried each day."
Finland offers an attractive location for data center developers, with cool climate, political stability, respect for privacy, good fiber links to the rest of Europe and very serious attitudes towards cyber security.