Telesat is planning to reduce the size of its upcoming Lightspeed Low Earth Orbit (LEO) satellite constellation by around a third due to supply chain issues and inflation costs.
The Canadian satellite operator plans to order 100 fewer satellites from Thales Alenia Space, Telesat CEO Dan Goldberg said during the company's May 6 earnings call.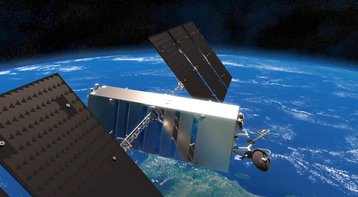 "The plan is for 188 satellites plus 10 in-orbit spares, which keeps us within the same CapEx envelope we were working with previously, notwithstanding the cost increases we've seen from supply chain shortages and other inflationary pressures," Goldberg said.
Telesat's Lightspeed constellation was originally due to comprise a fleet of 298 satellites for a combined capacity of 15 Tbps. Thales Alenia Space is contracted to build the satellites, but supply chain issues have pushed back the constellation's planned roll-out date.
"This constellation will have something like 10 terabits of capacity," Goldberg said of the reduced capacity constellation. "We think that what we're bringing to market is going to be disruptive in terms of the quality of service that it will deliver and the price at which we can deliver it."
Each satellite weighs 700 kilos, and Telesat will offer up to 7.5 Gbps for a single terminal, with up to 20 Gbps for a single hub location such as a port. The company is aiming to serve fixed and mobile network operators, aeronautical and maritime users, as well as enterprise customers and governments.
Operating in the Ka-band spectrum, the company originally expected the constellation to be operational in the second half of 2023, with the entire project costing around $5 billion to deliver. However, supply chain issues have pushed the expected completion date back to 2026.
Telesat is in discussion with export credit agencies for final funding for the constellation; the operator has secured around $3.3 billion in funding between its own cash reserves and government contributions so far.
During a March 18 earnings call about Telesat's 2021 results, CEO Dan Goldberg told analysts, "we either need to raise more money, or we need to descope the constellation" to keep it within the previously projected $5 billion budget.
Telesat became a publicly-listed company in November 2021, partly in an effort to secure funding in order to complete the new constellation.
NASA picks early favorites for CSP contracts
Telesat was one of several companies to recently win funding from NASA. The US space agency is looking at using commercial SATCOM networks for near-Earth operations as it works to decommission its near-Earth satellite fleet in order to dedicate more time and resources on its deep space exploration and science missions.
The combined value of the agency's Communications Services Project (CSP) funded agreements is $278.5 million. NASA awarded a $30.65 million contract to Telesat US Services LLC as a delivery partner.
"Space Relay services via the advanced Telesat Lightspeed architecture provide a compelling value proposition for NASA and other government agencies, and we are excited to pioneer this promising and high-growth market," said Tom Eaton, President of Telesat Government Solutions. "NASA's collaboration with the industry has been most impressive as they aim to leverage commercial sector investment and innovation to meet their future near-Earth communications requirements."
A number of other satellite firms, both incumbent and newer startups, also won business from NASA as part of the CSP contract. Inmarsat was been awarded $28.6 million; Amazon's Kuiper $67 million; SES $28.96 million; SpaceX $69.95 million; and Viasat $53.3 million.
Each company will complete technology development and in-space demonstrations by 2025 to prove their proposed solution will deliver robust, reliable, and cost-effective mission-oriented operations NASA intends to seek multiple long-term contracts to acquire services for near-Earth operations by 2030, while phasing out its Tracking and Data Relay Satellite (TDRS) system.