Satellite operator Telesat has completed its merger with Loral Space & Communications and is now a public company.
Loral Space & Communications Inc. and the Public Sector Pension Investment Board of Canada acquired Telesat from BCE Inc. for CAD$3.25 billion in 2007.
The merger between Telesat and Loral was announced in November 2020, shortly after Goldberg discussed the option of financing Telesat's Low Earth Orbit (LEO) constellation through an IPO.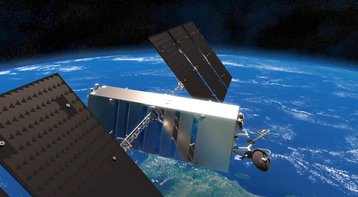 "If Telesat were to go public, and if Telesat were to issue equity as part of that process, certainly the proceeds of an offering could be used to invest in LEO," Goldberg said at the time.
The satellite company is now trading on the Nasdaq Global Select Market and the Toronto Stock Exchange. Telesat Canada and Loral have become subsidiaries of Telesat Corporation, the Canadian-controlled and incorporated public holding company formed in connection with the Transaction. Telesat Corporation will continue to be led by Telesat's President and chief executive officer Dan Goldberg.
"Today's announcement marks a major milestone for Telesat, driving forward our plans for growth, innovation and increased value for our customers, partners, employees and shareholders," said Goldberg. "By rationalizing our corporate structure and providing access to the public equity markets, this dual-listing enhances Telesat's ability to execute on its compelling investment opportunities to drive our growth—and the future of global broadband connectivity—including our transformative Telesat Lightspeed Low Earth Orbit satellite network."
Affiliated funds of MHR Fund Management LLC and PSP Investments hold securities representing approximately 36 percent and 37 percent of Telesat's outstanding equity respectively.
Telesat's Lightspeed constellation will comprise a fleet of 298 satellites for a combined capacity of 15 Tbps. Thales Alenia Space is contracted to build the satellites, but supply chain issues have pushed back the constellation's planned roll-out date.
In other satellite news, French startup Kinéis has secured regulatory approval from the FCC to operate in the US. Spun off from French maritime and environmental monitoring company CLS (Collecte Localisation Satellites) in 2018, the company aims to deploy 25 satellites to low Earth orbit in 2023 to provide IoT satellite services.
Kinéis currently manages the Argos Earth observation network which it inherited from CLS and collects humidity, sea level and other one-way data points from maritime beacons. The company raised $110.5 million last year.