French hosting company Alter Way is to use Telecity's Paris data centers to house its systems. The company was forced to look for an expandable infrastructure after its new pay-per-use cloud system H2O attracted over 10,000 traffic-heavy websites and applications.
Open source service provider Alter Way hosts enterprise clients such as Ubisoft, NetSquad and the French government but its H2O cloud service has created a groundswell of small and medium sized business, whose growth patterns are less easy to predict. Alter Way has recently been forced by the expansion of its H20 business to review its data center infrastructure, according to Philippe Montargès, its co-founder and co-president. The brief was to create a dynamic and highly-scalable platform for its web-based applications, he said.
"Our cloud platform is totally dependent on the underlying infrastructure that supports it. We needed greater scalability from our infrastructure so we can deal with rapid growth, provide quick response times and handle peaks in demand without an impact on our service," said Montargès.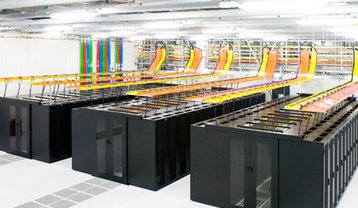 New sites link up
Telecity has three data centers in the industrial estates in the northern suburbs of Paris. Its latest addition – the Tier 4 six Megawatt facility at Condorcet – now backs up two existing sites, Energy Park and Victor Hugo.
Telecity's Paris facilities offer flexible power densities and configurations of up to 30 kW per rack and resilience of a minimum N+1. Each site provides back-up diesel generators that can support 72 hours of independence from the national grid. The data center operator claimed its DWDM network service provides access to over 400 additional connectivity providers.
Details of the computing, storage or networking capacity on offer are not available but Alter Way's president confirmed that it provides room for growth.
"By working with TelecityGroup we are able to achieve the scalability, connectivity and resilience we require," said Montargès.