American managed IT specialist T5 Data Centers is planning to expand into Europe with a 32.5-acre data center campus in Cork, Ireland.
The site, built in partnership with local property developer JCD Group, will eventually reach 504,000 square feet of space and 46MW of power capacity. Its primary aim is to offer American customers an easy way to comply with current and upcoming European data sovereignty rules.
The first building on campus - a 7MW, 84,000 square foot data center - is set to open in the first quarter of 2019.
Going where data goes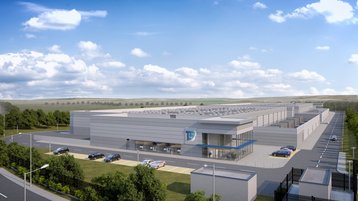 T5 operates data centers in Atlanta, Los Angeles, Dallas, New York and Charlotte, as well as a huge data center park in Colorado Springs with 100MW of available power. The campus in Cork, codenamed [email protected], will become its first project outside the US.
T5 is planning to construct three buildings on the site: two 7MW data centers for retail colocation, and a 32MW data center designed for the needs of cloud vendors.
The campus will enjoy direct access to Ireland's five largest domestic fiber carriers, as well as submarine cable connectivity to the US, UK and Europe.
The company has already obtained all the necessary permissions from the local government.
"Now is the perfect time for T5 to build [email protected] as our springboard into Europe," said Pete Marin, CEO & president of T5 Data Centers.
"Cork is a growing technology hub with a great talent pool and robust infrastructure. We expect [email protected] to attract European customers seeking a new location for their enterprise operations, and for U.S. companies seeking a European data center presence. This is the next phase of T5's global expansion strategy and shows our commitment to serve our customers wherever they need us."