American cloud and colocation provider Switch is introducing a proprietary data center standard that it hopes will find broader support in the industry.
According to Switch, Tier 5 evaluates more than 30 key elements in addition to the resiliency features that are the primary focus of certification programs administered by organizations like the Uptime Institute and the American National Standards Institute (ANSI).
These include the number of available network carriers, the location of cooling systems, physical security features and supply of renewable energy.
The standard has been endorsed by a number of former Uptime Institute employees, but not the organization itself. Switch plans to use the Tier 5 standard as the first step to create a non-profit Data Center Standards Foundation (DCSF).
"Switch's Tier 5 standard injects critical parameters to enhance availability and reliability for the colocation industry," said Vince Renaud, former CTO of the Uptime Institute.
Shots fired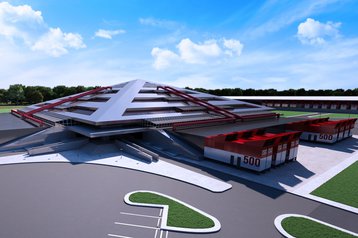 Switch specializes in wholesale colocation, building some of the largest data centers in the world. It runs thee campuses in the US - in Las Vegas, Tahoe Reno and Grand Rapids – as well as one in Milan, Italy. A major campus in Bangkok is currently under construction.
The company has been an active proponent of renewable energy for several years, being the first data center provider to join the American Business Act on Climate Pledge in 2015. In 2016, it closed on a contract for enough solar power to provide for all its data centers.
Switch had previously obtained a Tier IV Gold certificate for two of its facilities across Design, Facility and Operations categories, becoming the first and only carrier-neutral colocation provider to do so. Not content with the results, it is introducing its own metric that goes beyond some of the strictest requirements in the industry.
"When I certified Switch's Las Vegas 8 as Tier IV Gold in 2014, and Switch's Las Vegas 9 as Tier IV Gold in early 2016, I realized there were no other data centers that matched Switch's patented designs, facilities and operations," said Ed Rafter, former senior electrical engineer at the Uptime Institute.
"After 20 years at Uptime certifying 80 percent of the Tier IV facilities in North America, I realized that Switch is the world's first Tier 5 data center provider."
Switch also plans to set up DCSF an independent standards body led by "leading technology companies and industry experts." It will provide a low-cost certification program for enterprise and colocation data centers while "vigorously defending against misuse of its classifications."
"Current standards concepts let some companies fraudulently misrepresent their data centers as a certain tier or quality, when they are not. This has become a problem that has plagued the data center industry around the world," stated the press release.
Uptime responds

The Uptime Institute, the organization that designed and is responsible for administering the popular Tier Standard, was quick to respond, highlighting its long track record and the differences between its own certification efforts and Tier 5.
"To date, we have certified over 1000 data centers in over 85 countries," Lee Kirby, president of the Uptime Institute, told DCD. "We provide the only quantitative management, operations and efficiency assessments using a time-proven methodology. And no one but Uptime Institute provides vendor neutrality, global consistency, and the necessary depth of data center expertise needed to efficiently design, build and manage IT infrastructure.
"New technologies and applications that have been certified by Uptime Institute range from unique approaches in cooling to new standards for management and operations, to sustainability innovation with Efficient IT. Because every data center is different, with varying complexities and issues based on variables like local characteristics or build parameters, Uptime Institute's Tier Standards are designed to be highly flexible in their approach, avoiding the need to be rewritten as the topology expands.
"We'd also add that any non-profit driven and funded by a private entity with a specific agenda of its own isn't an unbiased organization."