American colocation specialist Switch has started the construction of a $1 billion data center complex in Nevada, set to be one of the largest in the world.
The SuperNAP campus in Reno will total three million square feet, and could take up to ten years to fill.
The existing SuperNAP facilities in Las Vegas are the first and only carrier-neutral colocation data centers to be certified Tier IV Gold in Operations by the Uptime Institute. They are also certified Tier IV in both Design and Facility categories. The same standards will apply to upcoming SuperNAP in Reno.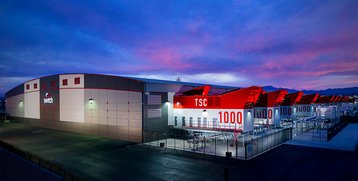 Intensive server farming
In January, Switch announced it would be building the world's largest data center. According to Reno Gazette-Journal, local contractors have already begun excavation and grading on the site, which will be ready for more substantial building work by late September.
The first phase out of seven will deliver a 987,064 square feet building, and support up to 90 MVA of IT load. It is expected to open by the second quarter of 2016, but the build-out of the entire campus will take five to ten years.
The Reno SuperNAP will be sharing the Tahoe Reno Industrial Center with the 'gigafactory' - the biggest lithium battery manufacturing plant in the world, owned by Tesla Motors.
Switch already operates a SuperNAP campus in Las Vegas. It includes three live facilities, one under construction and another three planned for the future.
The company says it will be able to transfer data between Vegas and Reno in just 7 milliseconds. It also hopes to attract customers from San Francisco and Los Angeles, by providing fast access through a 500-mile long fiber 'superloop'.
In the future, Switch plans to take its SuperNAP model to Southeast Asia and Europe.