A new Dutch supercomputer was inaugurated this week.
The 14 petaflops Snellius system utilizes Lenovo ThinkSystem servers with AMD Epyc processors, Nvidia A100 Tensor Core GPUs, and Nvidia Mellanox HDR InfiniBand networking.
The new system was inaugurated this week in an event attended by Queen Máxima of the Netherlands.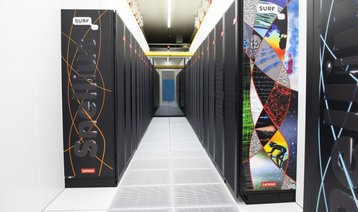 "It allows us to answer new questions about what is happening to the climate as a result of the increase in greenhouse gases," said climate scientist Henk Dijkstra. "We can also make more detailed forecasts for the climate of the future, particularly the occurrence of extremes such as heat waves and excessive precipitation. These kinds of calculations cannot be done on a laptop."
The supercomputer was delivered to SURF, a cooperative of universities, vocational schools, research institutions, and university medical centers that work together on ICT facilities and ICT innovations. The €20 million ($24.2 million) project is housed located in the Amsterdam Data Tower at the Amsterdam Science Park.
Walter Lioen, research services manager at SURF added: "The system must be suitable for all fields of science, from astronomy and climate change research to medical and social sciences. In addition, the supercomputer must be able to be expanded flexibly in the future."
SURF said it chose Lenovo because of its superior proposal in the field of performance and sustainability. Lenovo says its Neptune water-cooling technology will remove approximately 90 percent of the heat from the system.
The new system is replacing the national supercomputer Cartesius, which is now over seven years old. Built by Atos & Bull in 2015, the 1.3 petaflops Cartesius 2 system fell out of the Top500 in 2020.
Funding for the new system is mostly coming from the Ministry of Education, Culture, and Science which is providing €18 million ($21.7 million), with SURF providing the rest
The system is named after Dutch astronomer and mathematician Willebrord Snel van Royen, also known as Snellius. His name is attached to the law of refraction of light known as Snell's law.