Wholesale fiber network firm WIOCC has raised $200 million to launch a new pan-African data center network.
The company this week announced it had completed a $200 million debt and equity capital raise. As well as expanding subsea and terrestrial fiber investments, the money will be used to launch a network of pan-African data centers targeting cloud and wholesale providers through a newly-created WIOCC Group company called Open Access Data Centres (OADC).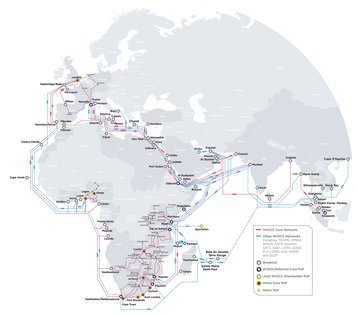 First-phase locations for OADC will house carrier-neutral submarine cable landings in Lagos, Nigeria; Durban, South Africa; and Mogadishu, Somalia. Construction and fit-out is underway in Lagos and Durban, with both to be launched early in 2022, whilst the Mogadishu data center will be ready before the end of 2022.
WIOCC said further phases of deployment will deliver more than 20 new data centers in strategic locations throughout the continent, focusing on major connectivity hubs in each country.
The equity capital was raised from CAPE IV, a fund managed by Africa-focused private equity fund manager, African Capital Alliance (ACA). WIOCC's debt facility was provided by the International Finance Corporation, Proparco and Emerging Africa Infrastructure Fund managed by Ninety One. Verdant Capital acted as financial advisor to WIOCC for the equity capital raise.
"We are excited to conclude this stage of our capital raise, which will enable a very significant expansion of our hyperscale infrastructure through investment in new high-capacity subsea systems and terrestrial network," said Chris Wood, CEO of WIOCC. "The creation of a new Group company – Open Access Data Centres – offering a transformational data center proposition to the market will underpin and accelerate the evolution of cloud ecosystems in Africa, delivering the low-latency, high-performance capabilities increasingly demanded in Africa's markets."
Beyond OADC, the capital will be used to further investments in Equiano and 2Africa international subsea systems as well as the deployment of metro and national fiber networks in key locations.
Formed in 2008, African wholesale network firm WIOCC (West Indian Ocean Cable Company) is part of the Eastern Africa Submarine Cable System (EASSy), Europe India Gateway (EIG), West Africa Cable System (WACS), Telecom Egypt North (TE North), South East Asia–Middle East–Western Europe 5 (SEA-ME-WE 5), and the Facebook-led 2Africa cable systems.
Paul Kokoricha, Partner, ACA, added: "WIOCC is a fast-growing wholesale capacity provider in Africa that has positive market fundamentals given the rate at which internet penetration is growing and the desire for more OTT services. Our partnership with them will deliver their vision of being Africa's leading carriers' carrier, setting the standard by which performance is measured in the industry, through the delivery of robust and creative solutions for each client, with exceptional support, leading to successful long-term partnerships."
More in Construction & Site Selection