ST Telemedia Global Data Centres (STT GDC) is investigating the use of cold energy from liquefied natural gas (LNG) transportation to cool a data center in Thailand.
STT GDC has signed an agreement with PTT Digital Solutions, the IT services arm of Thailand's stat-owned oil and gas company PTT, under which the two companies will carry out a feasibility study for the idea, as well as exploring other energy sources.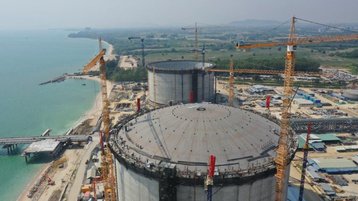 When natural gas is transported by sea, it is liquified to reduce its volume, and has to be turned back into gaseus form on arrival for distribution through pipes. Many countries have large regasification plants at major ports, where the LNG becomes a gas again, releasing energy and absorbing heat in the process. This energy usually goes to waste, often simply released into the ocean.
The idea of using this "cold energy" to cool or power data centers has been around since it was proposed in 2013 by TeraCool, but the idea had largely gone quiet in the intervening years. The concept has been revived in the last couple of years after Singapore-based operator Keppel announced a plan to develop a prototype gas-cooled facility with the National University of Singapore (NUS) in 2019, followed by a proposal to use LNG gasification to partially power a proposed floating data center park.
In South Korea, KT and Korea Gas have announced a plan to build an actual data center at an LNG terminal close to Seoul.
PTT Digital and STT GDC Thailand have signed an agreement to carry out a feasibility on harnessing the cold energy released from the regasification of liquefied natural gas (LNG) to produce electricity and chilled water for cooling a data center.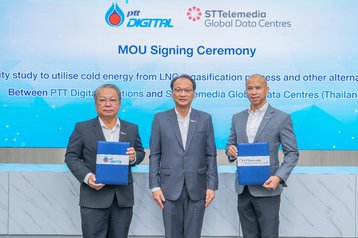 The agreement was signed by Kaweesak Boonchalaew, managing director of PTT Digital Supparat Sivapetchranat Singhara Na Ayutthaya, CEO of STT GDC.  
"PTT Digital focuses on the PTT vision to enhance energy management efficiency for the country's energy sustainability through Future Energy and Beyond by utilising untapped energy and digital innovations. The collaboration with STT GDC Thailand and feasibility study supports this vision as we jointly seek a more sustainable data center industry," said Kaweesak Boonchaleaw.
PTT Group needs some environmental action, as it has a goal of total carbon neutrality before 2040 - an ambitious or even unlikely goal for an oil and gas company.
As well as looking at the use of gasification, the study will investigate other sustainable innovations that can be embedded in the design of a hyperscale data center, he said.
"As a data center operator with a worldwide footprint, STT GDC believes in doing right by people and planet," said Supparat Sivapetchranat Singhara Na Ayutthaya. He said Thailand's data center industry is expected to grow 25-28 percent annually and will consume 407MW in 2024, which is equivalent to the power consumption by 407,000 households. With Thailand's population at around 70 million, that's a small but noticeable percentage of energy use.
"We are pleased to collaborate with PTT Digital in aligning our economic growth with our ESG accountabilities, to jointly establish a sustainable digital future for the benefit of the industry," he said.
The pair hope to reduce energy consumption by at least 20-30 percent by using alternative energy and more efficient cooling.