Stream Data Centers' Phoenix I facility will be connected to Cox Business' fiber network before it opens in August.
The connection means Stream's customers could expect to reach speeds of up to 100Gbps using the telco's dark fiber and Internet transport services. Stream's customers will also have access to the network company's range of services including business connectivity, security, video, voice, and cloud, which will be managed by a team of local experts.
The site, located in Goodyear, a suburb of Phoenix, Arizona, will be the first of five facilities set to be finished next month.
Getting ready for customers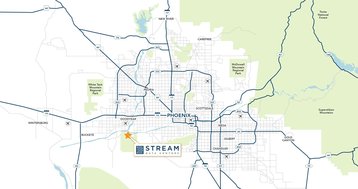 Overall, the campus is set to cover two million sq ft (185,000 sq m) of data center space across the five buildings (Phoenix I, Phoenix II, Phoenix III, etc) with an IT load of around 200MW.
As we reported last year, the 157-acre site was acquired in February 2019 with plans to initially set up a 418,000 sq ft (39,000 sq m) 50MW campus.
Now phase I will instead feature a 40.5 MW campus, with the first facility a 4.5MW data center.
The location was originally picked by Stream due to Arizona's tax policy surrounding data centers, and how uncommon natural disasters are in the area.
The Arizona Public Service Electric Company (APS) also houses an on-site substation with 350MW capacity. Almost half of APS's energy is sourced from renewables.
Chad Rodriguez, VP of Network and Cloud at Stream, said: "Adding Cox Business to the mix helps us bring world-class connectivity offerings into the Goodyear Campus.
"As one of the most robust fiber providers in the West Valley, pulling the Cox Business backbone into our data centers helps us ensure that our customers will have the high performance, low latency connectivity they need to support their businesses."
Ed Aaronson, VP of Cox Business, said: "Cox Business has invested more than $1bn in Arizona, over the last decade, in expanding its Arizona network to help the Phoenix Metropolitan Area become one of the most connected regions. Data centers are a key component to the economic growth of our community."