StackingIT is a new event platform that throws together IT professionals responsible for the network fabric, the rack infrastructure and the critical environment to learn how they can create more intelligent and free-flowing IT infrastructure that takes the industry closer to the promise of software defined data centers. It will be collocated with DCD Converged Europe at ExCeL Docklands on 18/19th November, 2015.
"The dilemma for all IT organizations is not whether to change the way they do things, but which of the new paths to take," says Kfir Godrich, Global Head of Technology at BlackRock who is participating in the event. "[This] conference programme embraces the need for a much more holistic discussion about the future of data center and cloud infrastructure that I am sure will help people make better informed decisions."
What's in store?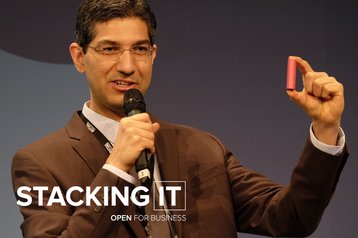 For the first time on a European stage we will bring together leaders from all of the primary open-source collaboration communities including OpenStack, OpenDaylight, Open Compute, OpenPower and OPNFV.
Kushagra Vaid, GM for Server Engineering at Microsoft, who recently unveiled their radical server design that does away with the need for UPS and open-sourced it, will be talking about designing and managing servers in cloud-scale data centers.
Meanwhile Reaz Rasul, VP & GM for HPs Global Hyperscale Business will be sharing their vision for infrastructure that powers the zettabyte era. 
The StackingIT speaker line-up includes some significant early-adopters such as Grant Richard from Global Engineering, Operations & Provisioning at Goldman Sachs, who will demonstrate how the leading global investment bank has used the "open" approach in the design of new, and upgrading of existing, enterprise class data centers.
The combined programme will also host speakers from some of the industry's biggest IT-stack innovators including Simplivity, Vmware, Linaro, FalconStor, Tintri and Intel. To view the full agenda click here.
A vision of the future
"From network fabric to the server and storage racks to the critical environment, a disruptive data center transformation is going viral that challenges an unnecessarily over-complicated and proprietary world we have helped construct," said Cole Crawford, formerly the founding Director of the Open Compute Project and now CEO of a fully "open" technology data center start-up. "Open-sourcing the full-stack of the data center and cloud is now ready to move out from engineering R&D to a more market oriented approach. StackingIT provides a much needed forum for the data center buy-side to properly evaluate their open-source roadmaps against the alternatives."
"As the Internet of Things, smart cities, big data and cloud drive the IT industry forward into unchartered territory, it is vitally important to not forget the engine that powers them – the data center," said George Rockett, CEO, DatacenterDynamics. "DCD has transformed over the last four years to become a truly holistic data center event that covers the whole IT stack as well as the mission critical services and engineering part. We are creating a collaborative environment where the many professional disciplines that touch the data center within large scale operators and end-users can come together to find cross-stack solutions."
StackingIT is a free-to-attend conference track for qualified Enterprise IT & Networking Architects. To register use voucher code 'STACK2015' and click here.