Spencer Building Carrier Hotel (SBCH) has gained planning approval for a new data center in Vancouver, Canada.
The company this week announced that it has obtained all necessary permits to commence the construction of a new data center at the Harbour Centre.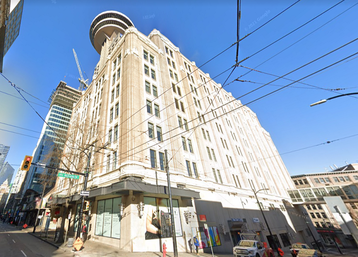 SBCH said it is currently in preconstruction and will properly get started in August 2023, with completion and the launch of operations expected in the fourth quarter of 2024.
"The arrival of Spencer Building Carrier Hotel in Vancouver is a testament to our commitment to offering premiere data center services that are economically viable for our customers and backed by the rich connectivity legacy of Harbour Centre," said Chris Jones, director of data center infrastructure and operations at Spencer Building Carrier Hotel.
The new 10MW, 43,000 sq ft (3,995 sqm) data center will be located at the Spencer Building, part of the Harbour Center at 515 West Hastings Street, a location that has previously served as a Spencer, Eaton, and Sears department store, as well as a downtown campus for Simon Fraser University.
First announced in January 2022, the Spencer Building Carrier Hotel was originally expected to be completed by Spring 2023, and then pushed back to the end of the year.
SBCH is a new company that is part of the Polaris group of companies that owns Harbour Centre and other Canadian properties [Polaris Realty].
The company said it has collaborated with the Harbour Centre to repurpose the historic Spencer Building, originally built in 1926. The new building will reportedly 'leverage free cooling opportunities' to offer energy-efficient designs.
TNW Corp (also/previously known as TNW Networks, Teliphone Navigata-Westel, and TéliPhone) previously used the Spencer building at 515 West Hastings Street as one of its data centers. According to TNW, the data center there was built in 2001 and offered 5,400 sq ft of space. However, the new facility will see the property rebuilt and have the potential for expansion to 20MW.
The new building will be located adjacent to an existing carrier hotel. Opened in 1977, the Harbour Centre skyscraper at 555 West Hastings Street is one of the tallest buildings in the city. Designed by WZMH Architects, the building has 28-stories plus an observation deck 168 m (551 ft) above street level. Cologix, Cyxtera, Aptum, and eStruxture operate space in the building.
More in Construction & Site Selection