A company is planning to build a new carrier hotel in British Columbia's Vancouver, Canada.
New firm Spencer Building Carrier Hotel (SBCH) this week announced plans to develop a 10MW, 43,000 sq. ft. carrier hotel at the Spencer Building in downtown Vancouver. Construction is due to be complete in Spring 2023, and reportedly has expansion potential to 20MW.
Originally constructed in 1925-26, the Spencer building was the site of the Spencer's Department Store, and part of the Simon Fraser University's downtown campus.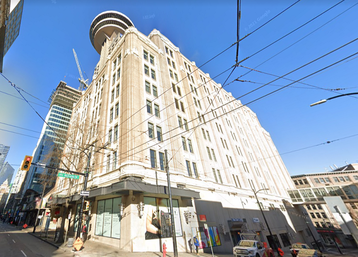 "Our vision for Spencer Building Carrier Hotel is to serve as the premier hub for connectivity for all of Western Canada," said SBCH Director of Data Center Infrastructure and Operations, Chris Jones. "This data center will not only be brand new, but it will also come with the latest innovative and cutting-edge technology that will allow us to provide a customized service for all customers, regardless of size."
The Spencer building is adjacent to the existing 555 West Hastings Street carrier hotel, which the company said the new facility will have a direct connection to.
Opened in 1977, the Harbour Centre skyscraper at 555 West Hastings Street is one of the tallest buildings in the city. Designed by WZMH Architects, the building has 28-stories plus an observation deck 168 m (551 ft) above street level. Cologix, Cyxtera, Aptum, and eStruxture operate space in the building.
"Harbour Centre has served as a major force not only in Vancouver, but for Western Canada as a whole," added Jones. "Being able to tap into that history, network and renewable energy while improving the future for Vancouver's connectivity is truly a monumental opportunity that we are proud to be a part of."
TNW Corp (also/previously known as TNW Networks, Teliphone Navigata-Westel, and téliPhone) still lists the Spencer building at 515 West Hastings Street as one of its data centers. According to TNW, the data center there was built in 2001 and offers 5,400 sq ft of space.
SPCH is seemingly a new company with very little online information. Jones was previously Director of data centers at Cogeco Peer 1. Now known as Aptum, the company was acquired by Digital Colony (now DigitalBridge) in 2019.
DCD has reached out for more information.
Update: Media representatives have confirmed the Spencer Building Carrier Hotel will be at 515 West Hastings Street but be 'a brand new build' at the property.
DCD was told SBCH is a new company that is part of the Polaris group of companies that owns Harbour Centre and other Canadian properties [Polaris Realty].
"SBCH is a private family-owned and funded business. The Executive Team consists of Erk von Rehren, Richard Lui, and Chris Jones," the spokesperson said.
More in Construction & Site Selection