New Zealand operator Spark has agreed on a deal with the government for a direct allocation of C-band spectrum that will provide Spark with management rights to 80 MHz of 3.5 GHz (or C-band) spectrum.
As part of the deal, Spark New Zealand must come through on its commitment to supporting the expansion of rural connectivity across the country.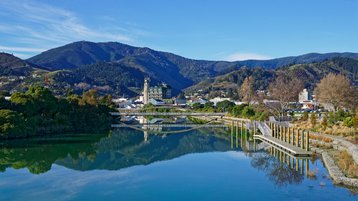 The operator confirmed in a statement that the non-binding agreement provides Spark with long-term spectrum rights from 1 July 2023 in the same band range for which it currently has temporary access. Its existing "early access" spectrum rights will be extended until that date.
Spark has committed NZ$24 million ($13.6m) in funding to the Rural Connectivity Group (RCG) between 2023 and 2025, enabling the RCG to continue to expand mobile coverage further into rural New Zealand, while also working to eliminate black spots in state highways.
"We know that technology has an important enabling role to play as New Zealand businesses seek efficiency improvements in a high-cost environment, and more sustainable solutions that enable our transition to a low-carbon economy," said Spark CEO Jolie Hodson.
"Now is the time for Aotearoa to move faster on digital infrastructure investment, which will underpin this productivity, efficiency, and sustainability improvements across the economy, and the spectrum allocation is an important enabler of that."
Hodson added that the company is working with the government over the finalization of future allocation of 600MHz and mm-Wave.
TowerCo sale completed
Last week the operator also confirmed that it has completed the sale of a 70 percent interest in its TowerCo business to the Ontario Teachers' Pension Plan Board (Ontario Teachers'). The transaction was conditional on Overseas Investment Office approval, which has now been received, the company confirmed in a market release.
Its TowerCo business has approximately 1,263 sites, with the transaction valuing the entire business at NZ$1.175 billion ($652m).
Spark previously announced its intention to return up to $350 million to shareholders following the completion of the sale, through an on-market share buy-back. The process is now being determined by the board for the buy-back, with the market to be notified in due course.