SpaceX has filed a request to the Federal Communications Commission (FCC) to equip its second-generation Starlink satellites with direct-to-cellular hardware.
It comes just weeks after the FCC approved SpaceX's Starlink Gen2 application for the deployment of 7,500 satellites.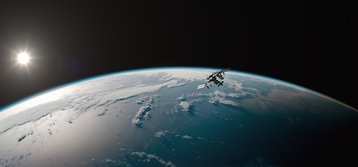 The latest application from SpaceX follows on from a partnership that was forged earlier this year with T-Mobile, which will see the two companies working together to provide mobile coverage to the most remote parts of the US.
SpaceX owner Elon Musk said at the time that connectivity speeds should be 2-4Mbps per cell zone.
However, the new filing from SpaceX has upped such claims, noting that speeds of 3.0 to 7.2Mbps upload and 4.4Mbps or 18.3Mbps download will be possible.
The company was granted authority to deploy 4,425 of its first-generation Starlink satellites, with over 3,500 of its Gen1 satellites launched since 2018.
SpaceX initially requested approval for a constellation of 29,988 non-geostationary orbit (NGSO) satellites, as part of its Gen2 Starlink.
The satellites that have been approved are authorized to operate at altitudes of 525, 530, and 535 km and inclinations of 53, 43, and 33 degrees, respectively, using frequencies in the Ku- and Ka-band, confirmed the FCC.
The FCC's decision to limit SpaceX's application was done with a focus on protecting against orbital debris, spectrum interference, and other operators' concerns.