US space startup SpaceLink has been selected to test its satellite communication relay technology on the International Space Station (ISS)
The Center for the Advancement of Science in Space (CASIS), which manages the US National Laboratory on the ISS, has selected the startup to test its 10 gigabit per second (Gbps) optical terminal from the station.
The demo aims to validate SpaceLink's hybrid optical and radio frequency (RF) network and optical terminal technology, and will provide real-time voice, video, and data exchange between ISS crew, onboard systems, experiments, and terrestrial users.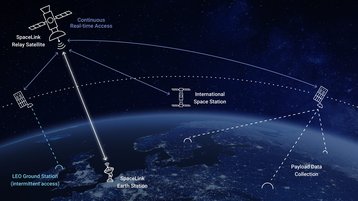 "Our demonstration on the ISS is the first step to proving SpaceLink's capabilities to advance space science and the emerging space economy," said David Bettinger, SpaceLink CEO. "Funding from CASIS marks an important milestone in SpaceLink's roadmap to providing massive bandwidth for organizations that need real-time connectivity between space and the ground."
The funding amount and the contract's length remain unfinalized, although SpaceLink chief technology officer Rob Singh told SpaceNews it aims to launch its first satellites in 2024.
"Working with CASIS to put optical communications on the ISS is a major milestone for SpaceLink and for the future of the global satellite communications market," Glen Tindall, CEO of SpaceLink's parent company, EOS Communications Systems. "It is also a landmark agreement for EOS as Australia's largest space company and supports our vision for optical communications to serve our major customers in both the US and Australia."
Spacelink plans a relay constellation of four spacecraft in medium Earth orbit (MEO), which will primarily deliver services to satellites in low Earth orbit (LEO). The MEO relay satellites will always be in sight of the LEO satellites providing them with continuous coverage or immediate download instead of waiting for lower orbit satellites to fly over ground stations.
Founded in 2020, and headquartered in the Washington DC area, SpaceLink is a wholly-owned US subsidiary of Electro Optic Systems Holdings Limited, a public company traded on the Australian stock exchange. CEO Bettinger was previously part on OneWeb.
SpaceLink has priority spectrum in MEO, originally secured by startup Audacy Corporation, which EOS acquired in May 2020.