The Southern Cross Cable Network has landed its SX Next cable at a California landing station. The new cable promises extra bandwidth between the US and Australia, New Zealand, and Oceania.
The 15,857km Next cable system will provide 72Tbps of carrier-neutral bandwidth and is due to come online next year (2022).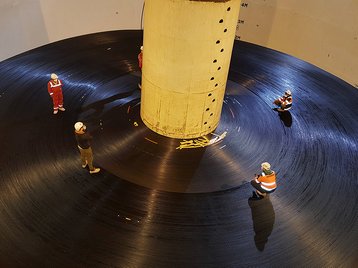 Next moves into LA
Using the Ile de Sein cable ship, independent submarine capacity provider Pacific Carriage Limited has brought the cable to Hermosa Beach, 20 miles from the center of Los Angeles, where it has been landed at the HMB IX facility.
When the project's survey was announced in 2017, the Next cable system promised 60Tbps capacity between Oceania and the US, along a route which surveyors described as "the fastest yet". The eventual system is now slated to provide more capacity - 72Tbps - which Southern Cross helpfully tells us would enable an Australian user to download the whole US Library of Congress in 1.5 seconds, if an individual felt the need to do so, and could book the whole cable.
"It can be easy to lose sight of the complexity and magnitude of engineering involved in building what is arguably the longest single-span submarine cable in the world, however, the efforts of the highly skilled teams in Southern Cross and our partners such as HMB IX demonstrate what can be achieved through the power of teamwork," said Pacific Carriage CEO, Laurie Miller.
"Once completed early next year, SX Next will further enhance our existing Southern Cross fully diverse network and will increase interconnect options for key Oceania markets to major content hubs in the United States via an ecosystem of 12 cable stations and eight key data center hubs in Australia and the United States, spanning six countries and eight time zones, all interconnected by over 45,000 kilometers of cable."
HMB IX owns carrier-neutral submarine cable landing stations - its Hermosa Beach facility has multiple dark fiber routes to downtown LA. HMB IX CEO staff boasted of their role in smoothing the path from sea to land.
"Our team's strong capabilities in managing and facilitating all aspects of permitting, landing, operating, and maintaining submarine cable systems has proven itself to be a key factor for landing several major transpacific submarine cable systems, with more to follow.," said HMB IX CEO Brett Lay.
"The importance of local relationships cannot be overstated in the successful completion of these large-scale projects," went on HMB IX senior vice president, Chris Brungardt said. "Our relationships with the residents and leaders of the City of Hermosa Beach that have been developed over many years are critical to the successful landing achieved today."
SX NEXT will interconnect into Southern Cross' existing data center locations in Los Angeles (Equinix LA1 and CoreSite LA1) and Silicon Valley (Equinix SV1, Equinix SV8, and CoreSite SV1), and will also provide the United States' first direct fiber optic cable link with the Pacific islands of Tokelau and Kiribati.