South Korea is to purchase a new supercomputer for its national supercomputing center.
Korea Times reported the Korea Institute of Science and Technology Information (KISTI) in Daejeon will deploy a new system in 2023 it claims will be 32 times faster than the existing Nurion system.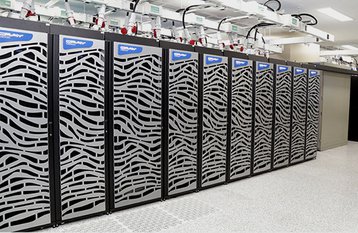 The Cray-based Nurion offers 25.7 peak petaflops of performance; a 32x improvement suggests the next KISTI supercomputer will offer around 822 petaflops of peak Linpak performance and around 446 petaflops sustained.
However, the Korea Economic Daily suggests the system will offer a 24x improvement, equating to around 618 peak petaflops, and include graphic processing units (GPUs) to support AI-based research.
In both cases, the planned supplier was not shared and both publications say the existing Nurion system is at full utilization, thus a new system is required.
In either case, the new system will be the most powerful in South Korea. If launched today, even a 600 petaflops peak system would rank second on the Top500 list of most powerful supercomputers. But several more powerful and likely Exascale systems may join the list between now and the end of next year.
"When we introduced the Nurion, it was recognized as the world's 11th supercomputer in terms of performance. When we start running our sixth one at the end of next year, we expect that the computing system will also be between eighth and 11th in the world," Lee Sik, director general of the division of national supercomputing at KISTI, said during a press conference this week in Seoul.
Launched in 2018, the Cray CS500-based Nurion features 8,305 Intel Xeon Phi Knight Landing processors and 132 Intel Xeon Skylake processors. It has a storage capacity of 21 petabytes. Its Neuron GPU node was launched in 2019 and after several upgrades is equipped with 163 V100 and A100 GPUs.
Nurion's Oracle-based predecessor TACHYON2 was a B6048 system launched in 2009 with 274.8 teraflops of performance. An IBM p690 launched in 2002 offered 4.3 teraflops.
Currently, the most powerful supercomputer in South Korea is Samsung's SSC-21. The HPE Cray system 25.18 petaflops of Linpak performance and a theoretical peak of 31.75 petaflops. The Korea Meteorological Administration's twin Guru and Maru systems both capable of 18 sustained petaflops and a theoretical peak 25.50 petaflops. Nurion ranks 41st overall.
Last year Hong Nam-ki, the South Korean minister of economy and finance, said the country would be aiming to launch an exascale system by 2028, potentially using domestic chips.