South Dublin County Council (SDCC) has voted to prevent future data center construction in the county as part of its new development plan.
The SDCC voted this week to ban any new data centres for the duration of the new County Development Plan 2022-2028.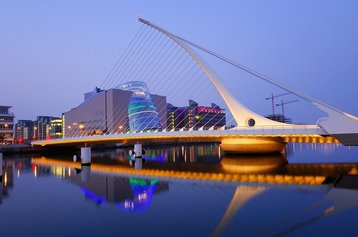 The amendment was put forward by People Before Profit Councillor Madeleine Johansson. Dublin People reports the motion was voted through by 18 votes in favor, 13 against, and one abstention.
"There are more beneficial uses for land in Dublin, including more employment heavy industries or offices," Johansson said. "I am delighted that councilors have gone beyond nice words and empty promises and actually taken the radical action that is necessary to protect our planet."
South Dublin is home to the Grange Castle and CityWest industrial areas, which hosts data centers from companies including Microsoft, Amazon, EdgeConneX, CyrusOne, Digital Realty, and Google. DCD has reached out to SDCC for more information and a comment.
Update: An SDCC spokesperson gave DCD the following statement:
On foot of a motion to the Special County Development Plan meetings held between the 1st  – 9th March, an amendment has been made to the Draft Plan which changes the zoning matrix.  This results in Data Centers moving from being 'open for consideration' in employment zoned land to 'not permitted'.
All material amendments to the Draft Plan will go on public display on the 29th March for 4 weeks at which time the public and interested parties can make submissions on the amendments. The Chief Executive will then submit a report to the Councillors which will assess the submissions and issues raised and provide recommendations. The Councillors will consider the Chief Executive's Report on the submissions to the Material Amendments and make the Development Plan with or without the proposed amendment.
The SDCC motion may be incidental, however, as Ireland's state-owned electric power transmission operator EirGrid has imposed a de facto moratorium on new data center developments in the greater Dublin area, saying it will only consider new applications for connection to the grid on a case-by-case basis in the wake of a Commission for Regulation of Utilities (CRU) decision to limit their impact. The restrictions could reportedly last until 2028.
IDA CEO Martin Shanahan recently said new data centers "are unlikely to happen in Dublin and the East Coast, at this point."
Both the Social Democrats and People Before Profit have called for a nation-wide moratorium on future data center projects in the last 12 months; the PBP's bill would have placed an absolute ban on data centers, Liquid Natural Gas plants, and new fossil fuel-related infrastructure.
PBP TD Bríd Smith said: "This is tremendously important and hopefully sees many other councils around the country wake up to the dangers involved in unrestricted data centers approvals including the threat of power cuts. For our climate and our future energy needs I hope many more follow this lead."
Gino Kenny, TD for Dublin Mid-West, added: "I would like to congratulate my colleague Cllr Madeleine Johansson for getting this very important motion passed at SDCC. The saturation of data centers would simply make our international climate obligations unattainable. It is very good that this motion was passed, and I hope that other councils across the country will take inspiration from this motion."
PBP TD for Dublin South-West Paul Murphy said: "Fair play to PBP Councillor Madeleine Johansson for getting this motion passed - now let's push for a nationwide ban."