South African telco Vodacom has outlined plans to combat the growing theft of its base station batteries.
In a lengthy statement issued earlier this week, Vodacom noted that base station battery theft and vandalism have grown significantly, stating incidents of vandalism at 15 to 28 sites per month, with between 18 and 30 batteries stolen at the region's base stations monthly.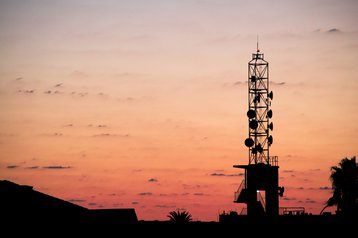 Vodacom has urged members of the public to report such incidents, which it adds has mainly impacted Welkom and the Northern Free State and Northern Cape areas.
"Theft and vandalism at our base stations continue to be a challenge, but we've seen the situation worsen during winter. These criminal activities cause disruptions to network services, resulting in frequent downtime for customers," said Evah Mthimunye, managing executive of Vodacom Central Region.
"The consequences go beyond the costs of repairing and restoring infrastructure. They have a significant impact on communities that depend on connectivity as a vital lifeline."
Vodacom, which has over 45 million customers across South Africa, said that, when these sites fall victim to vandalism, thousands of people are left without crucial communication services for days.
The telco notes that the cost to restore these sites can cost up to "hundreds of thousands of rands."
The rampant issue is likely linked to the country's grid issues, suggests Vodacom, noting the problems around loadshedding.
"To maintain connectivity for our customers during loadshedding, Vodacom Central Region has implemented backup power solutions across our base stations. Unfortunately, this has caused an escalating trend of criminals targeting generators, batteries, cables, wheels, and diesel at these sites, exacerbating the situation," added Mthimunye.
In May, South Africa's state power utility Eskom warned that it may have to increase power cuts to an unprecedented level this winter, as the country's power crisis continues.
Calib Cassim, Eskom's acting chief executive, said that it is "going to be a difficult winter" for the country.
Eskom warned at the time that it could implement Stage 8 loadshedding meaning that power outages could last up to 16 hours in a 32-hour cycle.
It has yet to go beyond Stage 6 power cuts, which require 6,000 megawatts to be shed from the national grid.
Increased security measures
Vodacom said that it has increased its security at its base station sites, through the installation of CCTV cameras.
The company also revealed it's deploying hardened security cabinets to safeguard essential infrastructure, such as batteries, with steel-clad containers equipped with alarms to deter unauthorized access.
The operator did reveal that theft of its telecoms infrastructure has led to some successful prosecutions.
In May 2022, three accused were found guilty of damage to essential infrastructure and theft of Vodacom batteries at Boschrand, Winburg. They were sentenced to 15 years on each count, serving a total of 30 years in prison.
Another person was sentenced to 15 years in prison after being found guilty of stealing a generator near Schoeman Park Golf Course in Bloemfontein the previous year, causing damage amounting to R800 000 ($42,000).
Elsewhere, the Villiers Regional Court in the Free State sentenced two thieves last month, who were caught along the N3 going to Johannesburg in possession of batteries belonging to Vodacom, to 12 years in prison.
Earlier this week in Botswana, Botswana Telecommunications Corporation (BTC) outlined plans to go 'copper free' in parts of the country next year.
According to a report by local publication Mmegi, the telco is aiming to combat the issue of copper theft in the country. 
Copper theft isn't uncommon, and is an issue worldwide, as the cost of copper has risen in the last few years.
Last month in the UK, cable thieves left an Oxfordshire village without Internet connectivity for almost two weeks after they stole more than 500 meters of underground copper cable from Openreach's local network.
BT subsidiary Openreach has been targeted by vandals in the past, with the company hit by similar attacks in Kent, Shenley, and Yorkshire last year.
A man in Ghana was sentenced to seven years in prison for stealing telecom cables earlier this year.