South Africa's grid struggles show no sign of letting up, with the country's energy crisis continuing to cause rolling blackouts for the nation.
These blackouts have been so severe that South African President Cyril Ramaphosa was forced to cancel his recent trip to the World Economic Forum 2023 meeting in Davos, Switzerland.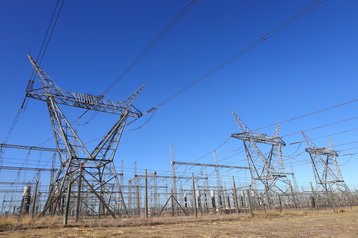 Reports from multiple outlets including CNN Business and Bloomberg have revealed that the country has been hit with blackouts lasting as long as 12 hours.
The most recent outages occurred as Eskom revealed that 11 of its generators amounting to 5,084MW of capacity suffered breakdowns, which further reduced available capacity and meant it was necessary to introduce loadshedding measures.
The country saw its worst year for power cuts last year, with 205 days of rolling blackouts as South African power utility provider Eskom continues to struggle, with the company reportedly $22.7 billion in debt, and reliant of government bailouts to remain solvent.
Eskom has struggled to raise the money to buy diesel for emergency generators, which has led to power cuts becoming more frequent. Eskom gets its power from aging coal-fired power plants, which are prone to breakdowns, reported Reuters in September 2022, which noted unplanned load losses of 15,630MW. This is roughly a third of Eskom's total nominal capacity of just over 45,000MW.
This led to Stage 6 load-shedding measures being put in place, which means at least six hours a day without power for South Africans, and removing 6,000 megawatts (MW) worth of power from the grid to rebalance demand and supply.
Such measures can mean that households and businesses can see blackouts last between 4.5 and 12 hours at a time. CNN notes that the typical demand for power in South Africa ranges from 28,000MW to 34,000MW.
It wasn't the only time South Africa implemented Stage 6 last year, with similar measures in place in June too.
However, the country's load shedding will likely get worse beyond this, with DCD reporting last July that it could get to Stage 8. One energy expert warns Business Tech, that this could even hit Stage 10 in the future.
For now, Stage 6 is as high as the load shedding has reached in South Africa, but it's clear that the threat of higher load-shedding is real to the country, with every day so far this year experiencing outages.
The load-shedding has hit operators in the country, with MTN suffering from a cooling system failure last year because of the outages.
At the time, Jacqui O'Sullivan, Executive for Corporate Affairs at MTN South Africa told DCD: "MTN can confirm that one of its coolers at the Gallo Manor data center was impacted following a power outage. However, the cooling system is redundant and therefore did not fully shut down and was in fact fully restored within 45 minutes."